Arizona skydiving is a unique experience, providing great views of well-known landmarks and of some of the most beautiful scenery on the planet.
To use the well-worn marketing phrase, "What happens in Vegas, stays in Vegas." But there are exceptions to every rule and Las Vegas skydiving may be one of the exceptions in this case. Because, if you experience diving in the skies over the Nevada or Arizona deserts, you are going to want to tell everyone you known about this great experience.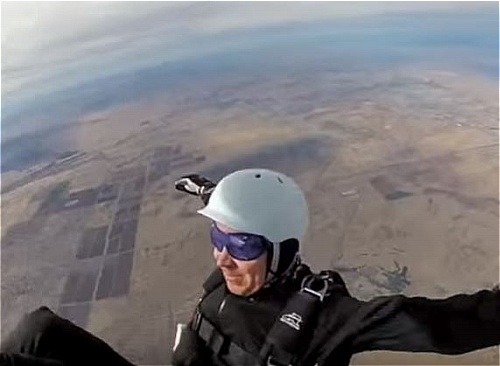 The simple explanation might be in the marketing material at Skydive Las Vegas, which states that customers free fall at 120 miles per hour, enjoying great views from above such landmarks as Hoover Dam, the Colorado River and of course, the Las Vegas Strip.
Learn In Tandem
As with most top skydiving centers, those devoted to Arizona free falls offer tandem skydiving as a perfect way for newcomers to experience this breathtaking activity. With Tandem skydiving the student or recreational customer is harnessed to a very experienced instructor, who is in control of the dive from start to finish.
This allows the newcomer to enjoy the view and get the thrills of skydiving without the anxiety of being in control of the dive.
Prices vary with the training method and with other factors, but skydiving nearby Las Vegas is quite affordable, usually in the $150 range. Check with some of the skydiving centers to get special prices, weekday rates etc.
There are a few special options with skydiving that are of particular interest. Videos and photographs are available in several packages. Those who don't want to skydive can choose the airplane ride option at some centers ($50), then ride in the plane and "watch your friends and family jump out the door."
As is the case with many Las Vegas activities, skydiving centers and schools are among the leaders in use of the latest and best equipment. For their tandem jumps, many of these centers use tandem harness equipment that has become available only in recent months.
Some centers exclusively use only the roomiest skydiving aircraft as well. It is a good bet that the newcomer and the experienced alike will be served by the best with the best.
Skydiving Arizona
Proximity to this gorgeous desert state makes Las Vegas a prime hub for skydiving over the Nevada desert as well as above some of the magnificent scenery in Arizona. Whichever location you choose (why not choose both?) the Nevada and Arizona skydiving experience will be one that you will want to share with family and friends.