The Butterfly brand is known for durability, high-grade technology, and creativity. One of its products, the Butterfly Playback Rollaway table is ideal and economical. It is also a decent table that guarantees many years of exciting play. The table requires some extra space. It is a perfect table for recreational centers, homes, and offices. Let us have a look at its features.
Best-selling features
Tabletop: It has a 19mm thick tabletop. The thickness is sufficient to offer you a superb bounce and fast-action play. The playing surface is ideal for both fun playing and for training purposes. A steel-made guard, measuring 1.5 inches shields the top. The massive duty rail system enhances the table's durability. Many competition tables have a top thickness of 25mm. As such, the19mm thickness provides a decent bounce.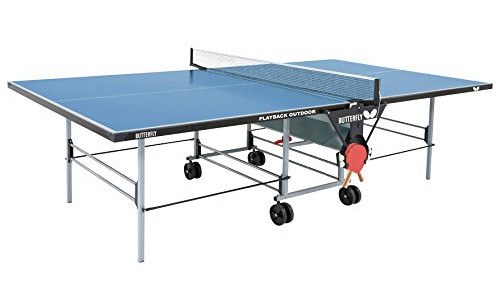 Structure: The Butterfly Playback Rollaway is made of steel, making it durable and rust-free. It also has a folding system that allows the net to remain attached to the table. You do not need to keep on reattaching the net system all time.
The table also comes with many disassembled parts. After purchase, it is recommended that you set some time to carefully and adequately assemble and set up the table. The user setup manual is easy to follow as most of the steps are diagrammatically explained. Once you set up, you are assured of many years of satisfactory play.
The Synthetic laminate surface is waterproof, perfect for all-weather use. The table has a full size of 9 by 5 ft. There is a 36mm metal rim that enhances stability. The table has a robust steel undercarriage, a center frame, and 4 double wheels with rubber tires. The wheelers assist in moving the table from one place to another.
It is convenient for a single-player game due to its playback position. One half can be folded into a storage position. The ball-bearing casters help in ball protection and storage. Its 2 safety levers protect the users from harm.
Price and customer satisfaction: Butterfly Playback Rollaway is one of the most affordable ping pong tables on Amazon. It is a table that is recommended to all table tennis lovers. Reviews from users show that they are satisfied with its design, workability, and playability. It is a premium table that is worth every penny spent.
Downside
The table, when folded becomes a little bit bigger and consumes extra storage space. It is not fit for homes that have limited space. It measures 73.5 inches in height and 24.5 inches in width when folded. Also, the table takes a long time to assemble for the first time. However, the process is simple and a one-time process.
Final word
Butterfly Playback Rollaway is recommendable for everyone. The 19mm top guarantees you a decent bounce. It is also a heavy-duty table that is fit for homes, training, tournaments, and recreational purposes. It does not require consistent assembling after the initial setup process. You only need to fold it and store it when not in use. The steel undercarriage, the wheels, and 1-inch steel legs ensure that the table is always firm on the ground. It does not flip when playing.