Introduction
Having a good table tennis table always makes the game more enjoyable. I have been playing table tennis for about two years now and I have played at different tables. The table I am currently trying out is the Stiga Outdoor Table Tennis Table – Vapor.
I was told about this particular table by a friend and I decided to try it out. I have noted that it has several outstanding features which are put in place to enhance overall performance.
Features
Some of the primary features I have noted about this particular table tennis table include that its construction is made of aluminum plastic. This makes it an ideal outdoor table as the aluminum-plastic tends to not be affected by different weather conditions including rain.
The table also has an outdoor net and clamp set which makes it ideal to be used outdoors. I have set the table in my backyard and we do not have to put the table back in the house even at night.
The table has a blue top and silk tournament lines which are specially designed to endure the outside environment. These materials used on the table resist warping, therefore, making the table more durable.
For people who would like to move the table from one position to the other, it comes with a trolley wheels system which can be conveniently locked when the table is being used. I always keep the wheels locked since I do not move the table very often but I know many people found these wheels are very important as they ease them to move their tables effortless.
This table tennis table also comes with steel legs and four levelers which provides optimum support. The undercarriage of the table is meant to be rust-resistant where it is powder-coated. Other cool features of this table including anti-tilting action which enhances the stability of the table. It also has 1.5 inches steel apron and a two-piece folding design with a playback feature.
The specific dimensions of this durable table tennis table while assembled are 107.87 inches by 60 inches by 29.92 inches. The playback dimensions are 68 inches by 62 inches by 62 inches. Other dimensions of the table include 6 millimeters blue top with silkscreens and a ball-bearing caster. The steel apron on the table is 1.5 inches and the steel legs are 1.5 inches too. Moving this table is easy as the total weight it carried is 140 lbs.
Pros
Easy to assemble – the table is delivered with everything in place and its assembly is straightforward.
Durable – the aluminum-plastic used on the construction and the other materials used make the table very durable.
Smooth – the blue top with silkscreens makes the table very smooth and convenient to use.
Simple transportation – the trolley-like wheels make moving the table from one place to the other very easy.
Cons
Spare parts – in case some of the parts get damaged it is quite challenging to find spare parts.
Relatively big – this table is relatively big which means that it needs ample space while being used and while being stored.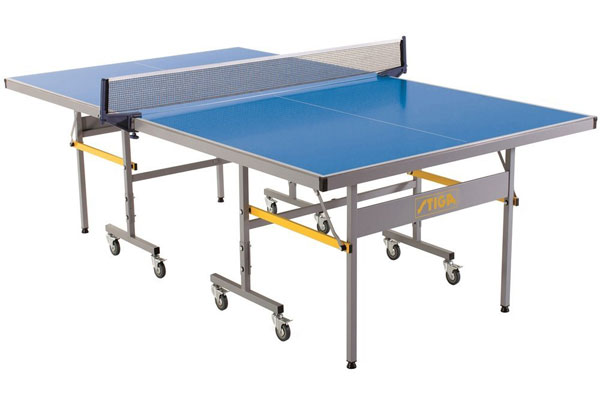 Final verdict
I have been using the Stiga Outdoor Table Tennis Table – Vapor and I can confirm that it is an ideal table for people who love table tennis. All the features of the table are put in place to ensure that playing on the table is enjoyable.
Even if it has a few issues, I can confidently say that this particular table is one of the quality table tennis tables that you can rely on for your table tennis playing experience.
* Stiga Vapor is now being upgraded to a new version and is known as Stiga XTR.