Elliptical Vs Treadmill – Which one Should I Choose?
Elliptical trainers and treadmills are popularly sought after by those who are particular about their fitness and health. Both these equipments are excellent for aerobic indoor workouts. As you compare elliptical Vs treadmill, you will notice that treadmills have been around for a very long time now as compared to the elliptical that are recent entrants.
Before you choose between elliptical and treadmill, it is recommended to carefully analyze the features and compare the two.
One of the main features of the elliptical trainer is that it offers an impact free workout. This means, as you do the workout there is no impact on the ground. These trainers are therefore great for people who suffer from joint pain and need a gentle workout. If, on the other hand, you want to strengthen your bones it is recommended to choose the treadmill.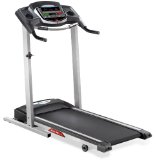 As we consider elliptical Vs treadmill, one aspect in favor of treadmill is that it offers dedicated joggers and runners with a better training experience as compared to the elliptical trainer. If you prefer not going outdoors during winters and are training for a 10k or marathon, you will do better choosing a high quality treadmill.
If on the other hand, you are looking for optimum efficiency in your cardiovascular workout, you will do better choosing the elliptical. Simulating jogging experience, treadmills focus on the lower body whereas an elliptical with foot pedals for legs and dual action handlebars for hands offer total body workout. Elliptical offers users the capability of burning the same amount of calories like the treadmill with less impact on joints. Physical trainers rehabilitating clients and seniors suffering from joint problems compare elliptical Vs treadmill and often choose the elliptical.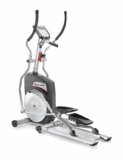 Precor model elliptical trainers come with the ability to change incline of cross ramp as well as vary intensity apart from focusing on the lower body by choosing to not use the handlebar. This option infuses variety into the monotonous routine though it is not often used.
Comparing elliptical Vs treadmill, a striking feature that stands out in elliptical trainers is the variety it offers that includes the reversible and forward foot pedal features. You actually feel you are on the cross country slopes skiing as you go forward. You lower body can be effectively targeted in a completely different manner when the pedal motion is reversed. In just a few minutes you will feel the targeting and burning of your quadriceps muscles.
Both elliptical trainers and treadmills therefore come with their own set of advantages and it is in your interest to take time analyzing and choosing one depending on your specific needs.