Why We Use Adjustable Dumbbell Set at Home
We are here discussing about adjustable dumbbell set. There are different sizes and different prices of adjustable dumbbells, so it is necessary to search online in order to purchase a better set of dumbbells. If you want to get better workout at your home then we suggest you to purchase a set of dumbbells. Here, you'll see that there are a lot of companies, many models and different sizes. They might confuse you, but do not worry. We'll help you here for choosing a best deal. We are here presenting options for your consideration. Please have a look:
Bowflex SelectTech 552 Dumbbells: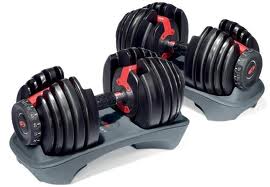 We'll provide the options according to your needs. If you have less space at your home, or you are living in an apartment, in spite of all these conditions, you can enjoy a better workout at your place with the help of Bowflex Select Tech 552 Dumbbells. This type of adjustable dumbbell has distinguished design. That's why one pair of Bowflex SelectTech 552 Dumbbells contains fifteen different sets. Due to having a prompt weight changing system of dial, we can quickly and easily change the weight within the seconds and can get better workout. This dumbbell allows you to change the weight of 2.5 pounds with one movement on its dial. In this way, you can progress gradually by small changes in weight. The height of a dumbbell is 9 inches, long 15.75 and wide 8 inches.
Powerblock Classic Adjustable Dumbbell Set 5 to 45 Pounds Set:
When we are discussing about adjustable dumbbells, the importance of Powerblock classic adjustable dumbbells set cannot be ignored. Powerblock dumbbells cover very low space and have nine different sets of dumbbells in one complete set. Dumbbell sets start from five pounds and go to forty five pounds (45lbs). So, in this way, we can save our space and also save the time. These dumbbells have three parts, including core, selector pin and weights set. With the help of selector pin you can select your desired weight within a few seconds.
In addition, it is highly tempered with safety purpose and an industrial strong material is used in it, in order to make it more secure. You can get better workout with the help of Powerblock classic adjustable dumbbell set at home.
Ironmaster Quick Lock 75 Pounds Adjustable Dumbbell System:
Ironmaster Adjustable Dumbbell Set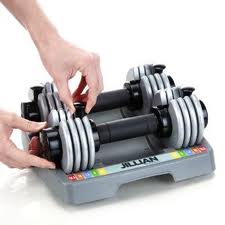 Now, we are going to achieve a hard target. If anyone wants a heavy duty workout and also wants to save his time and space, then we recommend Ironmaster quick lock dumbbells. Ironmaster dumbbells are also adjustable dumbbells, and you will be surprised when you'll be informed that one complete set of Ironmaster quick lock dumbbells consist of 30 different pairs of dumbbell sets.
If we have a look at their safety features, we see the durability and toughness of these dumbbells that you'll not feel any type of looseness during their use.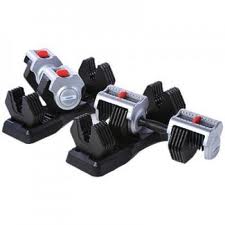 Lifesmart Adjustable Dumbbells 5- to 55-Pound Set:
These dumbbells allow their user to workout securely and get most effective benefits. When we talk about adjustable dumbbells set, Lifesmart adjustable dumbbell sets have very importance due to their promptly weight changing setup and durable lock system.