A game of table tennis can be a leisurely activity for the family or a fun way for you to get in shape. Most sports clubs have table tennis tables so that members need only to bring their own table tennis racquets. Buying your own racquet for the first time is often a major decision you must make because a table tennis racquet will have a major impact on your playing skills.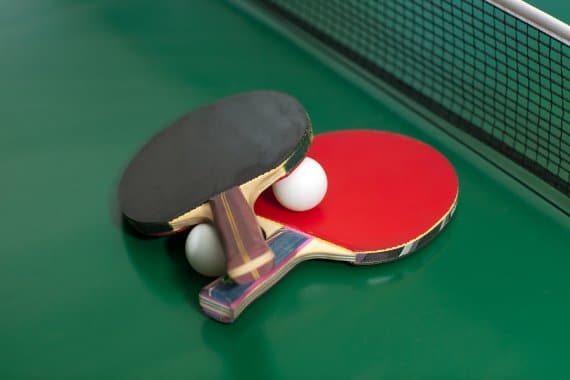 Get The Right One For Yourself
When buying your first ping pong paddles, you want to know what to look for and what to avoid. A bad paddle or inadequate rubbers can greatly affect your overall rate of improvement.
Knowing what to look for when shopping for ping pong paddles is essential to your performance and the quality of your table tennis game.
Common Mistake Fro Many People
The most common mistake that many people make when purchasing ping pong paddles is buying premade paddles. The problem with these kinds of ping pong paddles is that they come with the rubbers already attached.
Since the typical life of the rubber is not more than a year, this can be a major disadvantage, and in most cases, a waste of money. If the paddle is old stock, you may not get what you pay for, and opting for a newer paddle would have meant better performance.
The second thing to consider when picking out ping pong paddles is your blade. You don't want a blade that is too fast or slow. A good all-around blade from a manufacturer such as a Butterfly or Stiga often offers the best performance and is the most reliable option for those just beginning or who want a more competitive edge.
The grip and type of grip are other important factors for ping pong paddles. You want a grip type that is the most suited to your style of play, and a grip that feels comfortable.
Basic Types of Table Tennis Racquets
There are two basic types of table tennis racquets to choose from:
* Recreational racquets
Recreational types are pre-assembled wood and rubber racquets that provide good to moderate performance levels, sufficient for beginners and recreational players. These racquets are less expensive than custom-made types and are usually available in most sporting goods stores. If you don't want to go through the hassles of selecting wood blades and rubbers and gluing them together, then this type is for you.
* High-performance custom racquets
Seasoned players invest in high-performance table tennis racquets because these provide the right kind of spins and speeds best suited to their playing styles. This type of racquets is made of specialized and higher quality table tennis rubber and blades which produce higher speeds and spins than recreational racquets.
Competitive players assemble their own racquets by choosing the type of rubber (inverse, pips or antispin), padding and blade (natural wood or composite materials). Users of custom racquets generally enjoy playing advantage against opponents with recreational racquets.
How To Select Custom Table Tennis Racquets
Getting a high-performance custom racquet is a good idea for those who play table tennis regularly or who want to develop their games. Unlike recreational racquets, custom racquets allow you to replace rubbers when they are worn out, damaged or no longer responsive to your playing style.
Consider your playing style when buying a custom racquet and choose from among the following:
* offensive spin, which produces high spins with less emphasis on speed
* offensive speed, which produces high speeds with less emphasis on spin
* all around spin, which provides superior spin control and the ability to mix in topspin offense
* all around speed, which provides enough control and high offensive ability to mix in topspin offense
* defensive spin/control, for defensive play, when you want to control the rhythm of your opponent's game by producing deceptive returns and a variety of spins.
As you develop your skills, you will want to change blades or rubbers or table tennis racquets altogether, so it's best not to buy the most expensive racquet immediately.