Ping pong or table tennis is one of the games with several benefits and it's mostly played in game halls, corporate places, and homes. It's an addictive sport that requires adequate preparation and training.
Being successful in this game requires athletic ability, skill, and endurance. It also requires using the correct ping pong gear. The ping pong gear is vital in improving your game since ping pong is enjoyed with good equipment such as ping pong tables or paddles.
Now, let's review The Best Indoor and Outdoor Ping Pong Tables you can buy today.
Joola Inside Table Tennis Table with Net Set
This is a quality competition table tennis table with excellent durability, ideal for the home, gym room, office. It has a standard size of 9×5 feet with a regular height.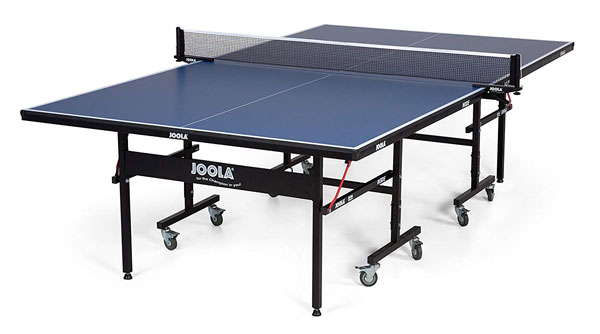 Although it's expensive, the quality is worth the price. It has different thickness of fiberboard which determines its durability and stiffness. Different 4-wheel trolley mechanism supports both halves of the table and hold it in place. This table can be folded in half to form the playback mode for practice.
Pros
Easily assembled
Foldable with decent mobility
Net stays upright
Different thickness available
Durable
Cons
Not sturdy for competitions
STIGA Advantage Table Tennis Table
STIGA brand of table tennis table are of good quality, and they have been a leading table tennis table manufacturers. It is suitable for competitions, recreational purpose, and very easy to set up.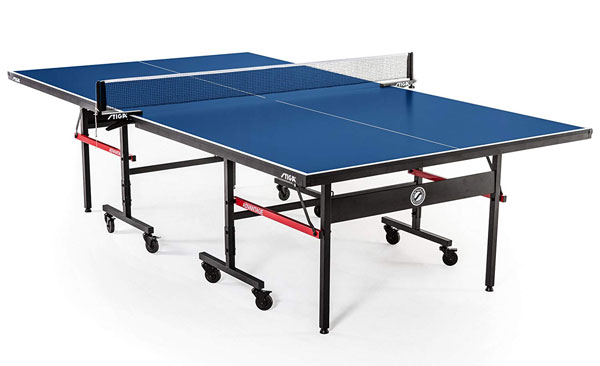 It is half-assembled by the manufacturers and takes few minutes to complete the assembly after purchase. The net on the table is similar to the ones used in tournaments with 72" cotton blended.
This table can fit into anywhere such as offices, schools, homes, because of its size which is 9×5 feet. The only problem with STIGA is that, it doesn't have playback mode, so you'll need an opponent to play with.
Pros
Easy to assemble
Cotton blended net
Sturdy
Smooth finish with good bounce
Both halves of table are independent
Cons
Table height cannot be adjusted
Killerspin Revolution Table Tennis Table
Killerspin table tennis table is not designed for competitions but to improve performance. It has a very attractive look which might add beauty to any place it is kept such as recreational room at the office, playroom in your home.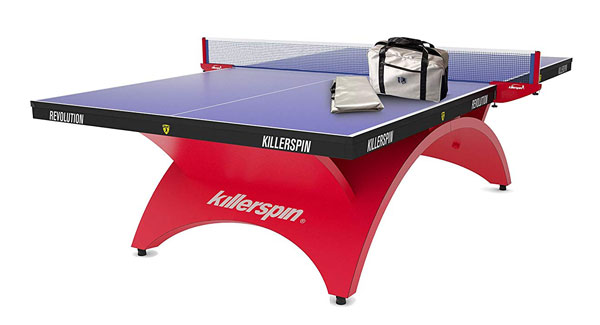 The base of the table is plated with arched aluminum to provide higher stability. The surface of this table has anti-glare coating for full visibility during a match, and it is designed with a premium 22mm thick MDF. It is easy to assemble, and the frame is held firmly by stainless steel hinges.
Pros
Colorful design
Anti-glare surface
Stainless steel hinges
Arched support
Cons
Cornilleau Indoor/Outdoor table tennis table
Cornilleau has a different support mechanism and is made of galvanized steel. It has rigid supports and big wheels to cruise through bumps and stand firmly on all surface. The supporting bars of this table are also made of galvanized steel.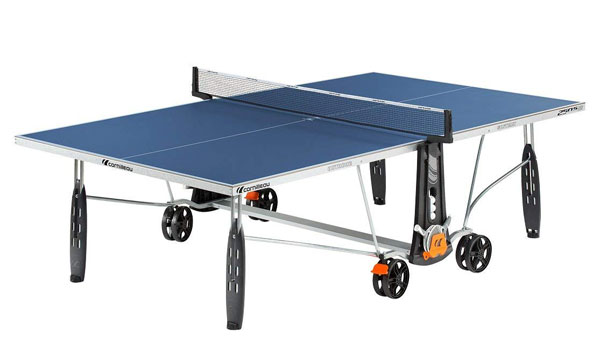 The surface of the table is laminated to provide a perfect bounce and makes the table very durable to withstand all weather conditions. The 7mm laminated surface reduces the glare from the table, and it is foldable to allow the playback mode. The portable body and strong frame of this table makes it suitable for indoor and outdoor sessions.
Pros
Made from galvanized steel
7mm laminated surface
Large double-wheels
Levelers and rigid supports
Cons
Very expensive
Wheels can warp if left uncovered outside
Butterfly Centerfold Rollaway 25
For players who want a top quality ping pong table for practice, this table is the best fit. It is one of the best quality tables in the market with a brand name, Butterfly, which is a widely known brand in amateur, club, and professional circles.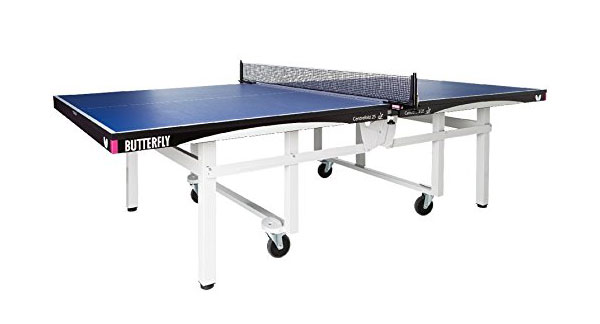 This brand is also associated with top quality table tennis equipment such as blades, balls, and table tennis tables.
The Butterfly Centerfold Rollaway 25 table tennis table is ITTF approved which makes it suitable for use in competitions. It has a 25mm blue table top, sturdy legs, and it's portable and foldable for easy storage with 5-years warranty.
The table top has a superb bounce and it's good-looking. It is also easy to set up as it comes reassembled, so, you only need to add the net and post.
Pros
No assembly needed
Approved by ITTF
5-years warranty
Cons
Very heavy
No ball storage compartment
Table top needs absolute care and attention.
Kettler Indoor Table Tennis Table
This is an excellent table with 7/8" thickness. It has a good quality and folds up easily on each side.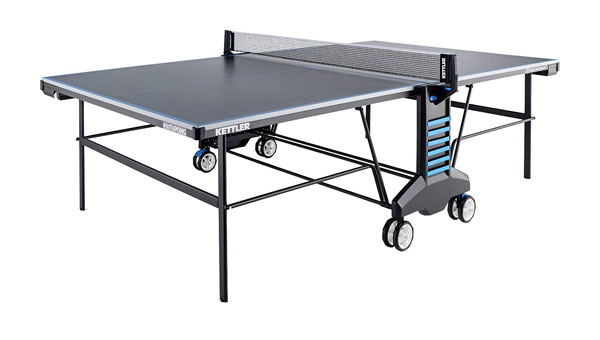 The table surface offers consistent bounce and it comes with ball and paddle holder for added value. Once it is set up, it gives pleasure to play on.
Pros
Integrated racket and ball holder
Suitable for tournaments due to its size and quality
5" rubber wheels for easy transport
2" square steel legs for stability
Folds easily and portably
Cons
Dunlop Premium 2-Piece Table Tennis Table
This table tennis table is very attractive with a good price. It has a 1" table top thickness and it's suitable for tournaments.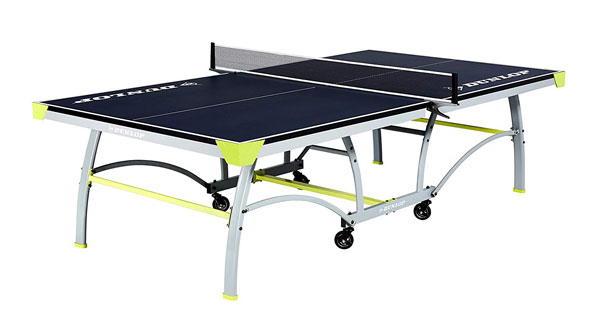 It is portable and folds up compactly, thereby making storage easy. It is also very easy to move about because of its 4" rolling caster wheels.
Pros
Has a full size regulation
Locking casters
Solid feel, consistent bounce
1" thick table top
Cons
Clamp pads for the net not sufficient to protect the table surface.
Conclusion
Before making that purchase, go through the above reviews carefully. Consider the warranty period, integrated ball and racket storage solution, table top thickness for good bounce, sturdy legs, and finally, the price of the product.