Whether you're a beginner or an expert skydive pro, New York is for you. There are numerous locations throughout the state to skydive nearby the big apple.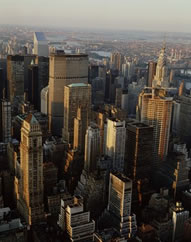 Skydiving there is big-time, not only because there are a lot of choices for where to go to skydive. The scenery that your aircraft drops you out over, too, makes New York free fall a must.
New York skydiving is also on the map thanks to a new skydiving learning system called the Accelerated Freefall Program, or AFF.
When you skydive in New York, you can take advantage of this new way to get accreditation to jump on your own. The AFF program can even be substituted at some skydiving New York centers for your typical tandem jump.
The AFF program works like this: you must perform eight jumps to graduate. The first three jumps are performed with two jumpmasters at a skydiving school or another accredited program. Then you'll take the next four jumps with only one jumpmaster.
During these jumps, you learn how to turn in flight, gain ground and body reference, and other important skills for skydiving. Finally, on jump number eight, the last jump, you go solo, and enjoy the rush of freefall all on your own.
No matter whether you plan to do the AFF program or take a tandem jump at a skydiving school, these skydiving centers in New York can surely accommodate you:
Blue Sky Ranch is located in Gardiner, New York, close by to the Shawangunk Mountains. Its skydiving school and pro shop offer all you could need for your next jump.
Duanesburg Skydiving Club is just outside of Albany. Too far for you? There are no excuses with Duanesburg. The club offers lodging for students, as well as the comfort of air conditioning and heat in its packing area.
Finger Lakes Skydivers in Ovid gives the one of a kind opportunity to take the leap over the beautiful and unparalleled Finger Lakes of New York. From 10,000 feet up, you'll actually see why they call them the Finger Lakes because they are shaped like the fingers of a hand.
Long Island Skydiving Center – http://www.longislandskydiving.com : provides Long Island with its skydiving needs from the town of East Moriches. This jump site provides another unique vista, the view of the Atlantic coast and the shoreline of the Hamptons.