Summertime is the perfect season for outdoor fun, and jumbo lawn games are a great way to bring people together. Whether it's a family reunion or an outdoor birthday party, these activities are sure to create moments of laughter and lasting memories.
From traditional favorites such as bocce ball and horseshoes to more trendy options like giant connect four and cornhole boards, there is something for everyone in this list of ten top-rated games.
Each one has been carefully selected based on customer reviews, ease of assembly and playability. Read on to find out which game would be the perfect addition to your next get-together.
1. Giant Inflatable Bowling
Are you looking for the perfect outdoor activity that will bring your family and friends together? Giant Inflatable Bowling is a great option.
This jumbo lawn game provides hours of entertainment while allowing people to socialize in a safe, fun environment.
Giant Inflatable Bowling comes with 10 plastic pins and two inflatable balls – one big ball (22") and one smaller ball (15").
Setting up the game takes minimal effort: simply assemble the 10 plastic pins, then blow up the giant bowling ball using an air pump or compressor.
The giant size makes it easy to see where the pins are located at all times.
When playing this jumbo lawn game, players can stand 12 feet away from the pins and roll their bowling ball down the lane towards them.
The best thing about Giant Inflatable Bowling is how accessible it is.
Players of all ages can participate in the friendly competition without worrying about hurting themselves due to its soft materials.
It also allows those who aren't typically athletic to enjoy some leisure time outdoors on warm summer days or nights.
With its vibrant colors, everyone will feel included in this classic backyard game.
2. Giant Wooden Blocks
Giant wooden blocks offer a classic game experience that is both enjoyable and challenging. Whether you are playing with family or friends, this traditional game helps create an atmosphere of togetherness and competition.
The blocks come in various sizes and colors to suit the needs of any group size, ensuring everyone can get involved in the action. Players alternate turns placing blocks on top of each other until one person makes the tower collapse – rewarding strategy over skill.
This physical version of Jenga provides hours of entertainment as well as fun for all ages. It also encourages people to stay active while enjoying time outdoors, making it the perfect lawn game for summer afternoons spent in the sun.
The only limit to giant wooden block games is your imagination. Create different formations depending on what type of challenge you're looking for – no two towers will ever be quite alike. There's something truly special about building a structure piece-by-piece before watching it crash down in spectacular fashion; add some friendly rivalry into the mix and you have yourself a great jumbo lawn game.
3. Giant Connect Four
Giant Connect Four is a classic jumbo lawn game that will bring you and your friends closer than ever. This beloved childhood game has been taken to a whole new level with its larger-than-life size. The oversized playing pieces look almost comical as they tower over the players, but this just adds to the excitement.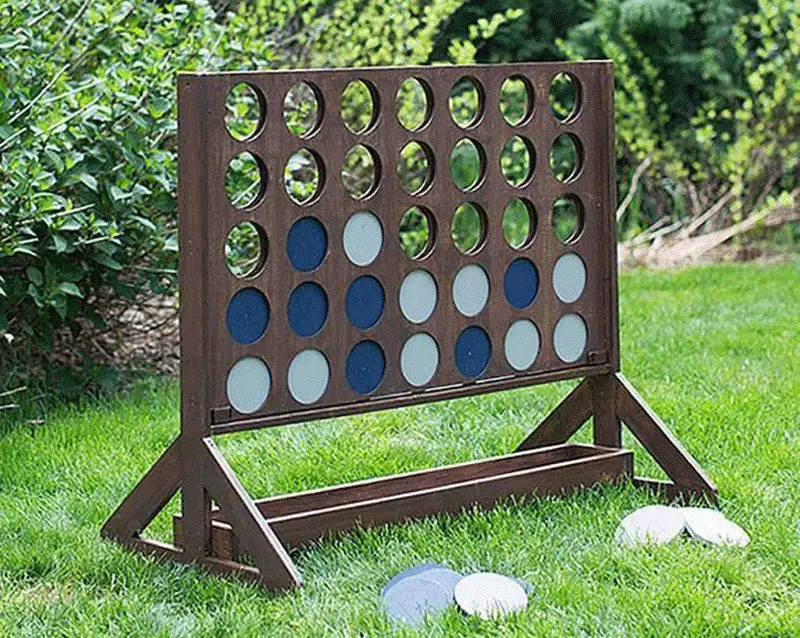 Here are some of the great benefits of Giant Connect Four:
Hours of Fun – With each round taking around 15 minutes or less, it's easy to get lost in hours of playtime. Plus, no two games are ever alike.
Endless Possibilities – There's always something new to try; combine strategies, create teams, or challenge yourself against different opponents. You never know what kind of cool tricks you can pull off until you give it a shot.
Social Atmosphere – Get ready for lots of laughs and friendly competition when you set up this game at parties or family gatherings. Plus, everyone gets involved instead of being stuck on the sidelines watching others play.
Giant Connect Four is an ideal addition to any backyard barbecue or summer gathering — be sure to stock up so nobody misses out on all the fun.
4. Giant Jenga
Giant Jenga is the perfect game for a fun and exciting outdoor activity. It can be played by both children and adults alike, making it an ideal game to play with family and friends.
This version of Jenga has larger blocks than the traditional game, adding an element of difficulty that keeps everyone engaged. The goal of Giant Jenga remains unchanged: each player takes turns removing one block from the tower without causing it to collapse.
The beauty of Giant Jenga lies in its simplicity; no extra rules or equipment are necessary to enjoy this classic game outdoors on your lawn. As players continue taking pieces out, the tension builds.
With 54 large wooden blocks measuring 7 inches tall, 8 inches long, and 2-1/2 inch wide, Giant Jenga provides hours of entertainment for any gathering—whether at home or a park.
It's hard not to get caught up in the excitement as you watch the towering structure sway back and forth while someone attempts to remove their piece without sending it toppling down. When playing Giant Jenga with multiple people, try offering small prizes like snacks or drinks when a participant successfully removes their piece without knocking over the tower.
5. Giant Chess
Giant chess is a timeless classic game that can be enjoyed by everyone. It requires two players, or teams of two, to strategically move their pieces around the board in order to capture an opponent's king – this makes it extremely engaging for highly competitive gamers.
Similarly, giant chess has been adapted into jumbo lawn games with oversized chess pieces and boards that are perfect for outdoor activities with friends and family. These sets usually come with large plastic pieces, measuring up to twelve inches tall, which are lightweight enough to easily transport and set up anywhere.
The rules remain consistent no matter what size the board is; however, there may be slight differences between regular chess and its bigger version depending on the manufacturer. Generally speaking though, each player begins the game with eight pawns followed by two knights, bishops, rooks, one queen, and finally one king placed at the center of the back row.
The first player moves any piece they choose while taking turns until someone captures the other's king resulting in either checkmate or stalemate – whichever comes first.
Playing giant chess creates an enjoyable atmosphere amongst players as well as bystanders who often get drawn into watching matches due to their complexity and intensity. With its relatively simple set-up requirements and ability to create lasting memories among friends outdoors, giant chess is undoubtedly one of the greatest jumbo lawn games available today.
6. Giant Tumbling Tower
Giant Tumbling Tower is a classic lawn game that can bring laughter, competition, and entertainment to any outdoor event. It involves stacking 54 wooden blocks in alternating layers of three until it reaches a height of over four feet tall.
The objective is for players to remove one block at a time without toppling the tower. When done correctly, this process creates an adrenaline rush as players attempt to keep their tower standing amidst thrill-seeking cheers from onlookers.
The beauty of Giant Tumbling Tower lies in its simplicity yet complexity; novice players may find themselves struggling with strategy while expert players test their skill and agility against the ticking clock.
For those looking to challenge convention, there are even creative rule variations such as allowing two hands instead of one or playing with additional towers side by side.
No matter your approach, Giant Tumbling Tower guarantees plenty of fun and excitement among friends and family alike –– perfect for birthdays, parties, barbeques, camping trips, and more.
7. Giant Kerplunk
The Giant Kerplunk is an outdoor game that will bring your family and friends together in a friendly competition. This classic lawn game has been around for generations, but the giant version of this popular game takes it to a whole new level with its bigger size.
Picture everyone laughing as they try to skillfully remove sticks without releasing too many balls – all while trying to beat their competitors. It's sure to be a hit at any get-together:
Each player is presented with 4 tubes filled with 10 colorful balls each.
To start the game, players take turns pulling out one stick from the center column at a time.
All of the released balls must then be grabbed by the other players before dropping onto the ground – otherwise, you're out.
This jumbo-sized version of Kerplunk adds another layer of fun and excitement to the traditional game making it even more exciting than ever before. Even if you don't win, you're guaranteed to have fun watching others attempt this tricky task.
A great way to pass away those summer days outdoors, playing Giant Kerplunk ensures hours of entertainment for people of all ages. Whether you're looking for something competitive or just some good old-fashioned bonding time, Giant Kerplunk is sure to provide both in spades – no matter where you play.
8. Giant Ladder Golf
Giant Ladder Golf is a popular outdoor game that can be enjoyed by families and friends of all ages. This lawn game offers an exciting challenge for players as they attempt to toss golf balls at the ladder in order to score points. The goal is to get three golf balls connected on one rung, which will rack up 3 points each time.
It requires some strategy since players must think about where their ball should land to gain the most points. Giant Ladder Golf comes with two sets of ladders and six colored golf balls; usually blue, red, yellow and green. Each set has three sections that connect together and form a giant "ladder" shape. The poles are made from durable PVC plastic so it won't crack or break due to weather conditions.
Setup is easy—simply snap together the pieces and you're ready for hours of fun. This lively jumbo lawn game brings everyone together for lots of laughter and friendly competition. To make things even more interesting, there are additional rules such as playing rounds instead of individual throws, allowing only certain colors per round, etc., making this game truly customizable depending on your group's preferences.
9. Giant Horseshoes
Giant Ladder Golf was great fun, but now it's time to move on to something with a classic feel — Giant Horseshoes.
This game has been around since the early 1900s and is still as popular today as ever before. It's easy to set up and play, making it perfect for any backyard party or family gathering.
The basic objective of the game is simple: throw horseshoes at stakes in the ground placed about twenty-five feet away from each team's starting point. The team that accumulates more points by having their horseshoe land closest to the stake wins the round.
Players get one point per shoe that lands within six inches of a stake, two points if it encircles (or 'rings') a stake, and three points if both shoes encircle one stake.
Giant Horseshoes offers hours of competitive entertainment for all ages, allowing players to hone their throwing skills while enjoying some good old-fashioned outdoor fun. Whether you're playing this game alone or with friends and family, its timeless appeal ensures everyone will have a blast.
With an emphasis on strategy and accuracy over strength and power, this traditional favorite provides plenty of opportunities for laughs – even when your throws don't go quite as planned.
10. Giant Checkers
Giant Checkers is a popular jumbo lawn game that brings people together in an atmosphere of friendship and competition. It's a timeless classic, played by children and adults alike for generations, but with larger pieces, it takes on a whole new life.
Standing atop the playing surface like mammoths overlooking their domain, its oversized checker pieces offer camaraderie and excitement to any outdoor gathering.
What makes Giant Checkers so special? The rules are simple enough for anyone to learn quickly – no lengthy instructions or tutorials necessary – yet provide enough challenge to keep players engaged for hours.
Plus, there's something magical about duking it out against another person across a giant board as onlookers cheer you on from the sidelines. That feeling can only be experienced when playing one of these unique jumbo games.
The possibilities don't end at two-player matches either; try forming four teams and competing in team tournaments instead. With different sizes available, everyone from toddlers to grandparents will be able to join in on the fun.
11. Giant Cornhole
If you're looking for something new to add to your outdoor entertainment arsenal, giant cornhole might just be the perfect addition. Also known as bean bag toss or soft horseshoes, this game can be played on any flat surface like grass, sand, or concrete. It consists of two wooden boards called 'cornholes' which have holes cut into them. Players take turns throwing beanbags at the board in an effort to make their land inside one of the holes. The winner is determined by who scores the most points after each round.
Giant cornhole adds a whole new level of excitement to traditional lawn games because it requires strategy and skill rather than luck alone. It will bring out competitive streaks while still allowing everyone to enjoy themselves – plus no matter how many players there are, anyone can jump right in without having to wait their turn.
Its larger size also makes it easier to spot where bags landed during play so nobody needs to worry about losing track of score. As a bonus, when not being used as part of a tournament-style competition, giant cornhole can provide plenty of amusement by simply watching others miss attempts at a hole-in-one.
This exciting jumbo version of an old favorite certainly deserves consideration from those seeking unique ways to spice up their backyard get-togethers. With its ease of setup, fun factor, and ability to accommodate both adults and children alike, giant cornhole proves itself as an excellent choice for large parties craving some friendly competition outdoors.
12. Giant Yard Yahtzee
Giant Yard Yahtzee is a popular jumbo lawn game that has grown in popularity over the years. For those who may be unfamiliar, Yahtzee consists of five dice and a scorecard. Players roll their dice up to three times per turn in order to achieve various combinations and scores on their cards.
In fact, statistics show that more than 40 million Yahtzee sets have been sold worldwide since its inception in 1956.
Playing Giant Yard Yahtzee provides hours of entertainment for groups of friends or family members alike. The larger size makes it easier to throw the dice from at least six feet away, making it perfect for outdoor activities like tailgating or beach parties. Here are some additional benefits of playing giant yard Yahtzee:
Fun for all ages – whether you're 5 or 95, all can join in on this classic game.
Easy setup & takedown – set up your game quickly with minimal effort required.
Endless replays – mix it up with different rules each time you play.
Durable materials – high quality plastic ensures long-lasting use no matter where you take it
The unique combination of skill and luck makes giant yard Yahtzee an ideal choice for players looking for competitive fun outdoors. With plenty of ways to customize the gameplay and opportunities for deep strategy, everyone will leave feeling satisfied after every round.