Inspiration and motivation are crucial to success on the volleyball court. Competing at a high level calls for a combination of mental fortitude, physical stamina, and agility. Players can find the inspiration to keep going in the face of adversity in a collection of quotes and sayings. When times are tough, they can also help to motivate team spirit and boost morale.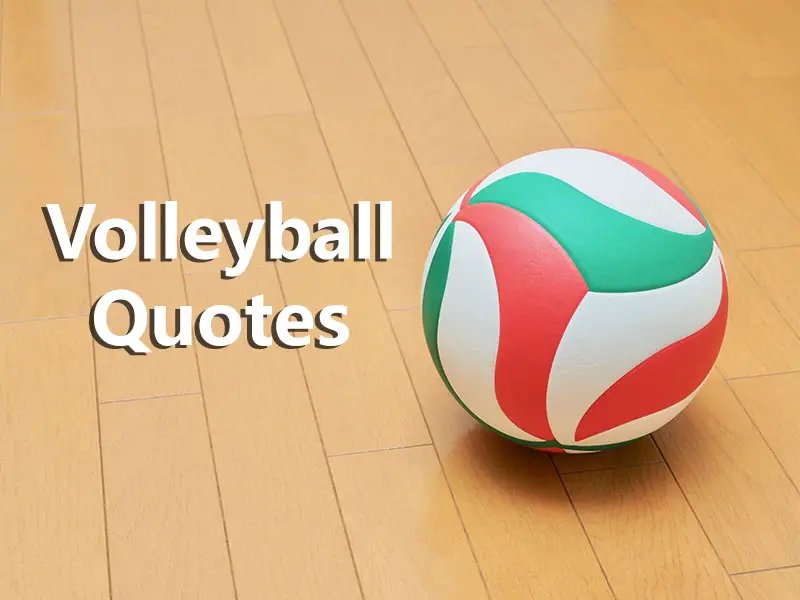 Motivational sayings can keep athletes from losing sight of the bigger picture and help them achieve their individual and team goals. Quotes that inspire action can give players the emotional boost they need to keep going when the going gets tough. They also serve as a constant reminder that we should always pursue our goals and never give up on our dreams.
For centuries, people have turned to quotes to share their thoughts and feelings, motivate others, and provide direction in trying times. Inspirational and motivational quotes can be just the thing to get us through the rough patches and the high points of a volleyball match. A boost of confidence is all it takes to accomplish our goals, and it only takes a few words of praise to give us that.
Here, I have prepared 38 quotes which I think are great to inspire and motivate you when playing the game of volleyball:
"Volleyball is a game of errors, so make sure you are aggressive." – Karch Kiraly
"Volleyball isn't just about winning, it's about having fun, learning, and growing." – Unknown
"Volleyball is a game of learning, growing and believing in yourself." – Unknown
"The best teams have chemistry, the greatest teams have heart." – Unknown
"In volleyball, it's not about the result, it's about the journey." – Unknown
"Believe in yourself and all that you are. Know that there is something inside you that is greater than any obstacle." – Christian D. Larson
"The harder the battle, the sweeter the victory." – Les Brown
"You are never too old to set another goal or to dream a new dream." – C.S. Lewis
"Life is like volleyball. You must persist and work hard to get the ball over the net, but once you do, you can celebrate and enjoy the victory." – Anonymous
"Success is not the key to happiness. Happiness is the key to success. If you love what you are doing, you will be successful." – Albert Schweitzer
"Don't let yesterday take up too much of today." – Will Rogers
"The difference between a successful person and others is not a lack of strength, not a lack of knowledge, but rather a lack of will." – Vince Lombardi
"Success is not final, failure is not fatal: it is the courage to continue that counts." – Winston Churchill
"Champions keep playing until they get it right." – Billie Jean King
"The true test of a champion is not whether he can triumph, but whether he can overcome obstacles." – Garth Stein
"Never give up, for that is just the place and time that the tide will turn." – Harriet Beecher Stowe
"Don't wait for opportunities, create them." – Roy T. Bennett
"Talent wins games, but teamwork and intelligence win championships." – Michael Jordan
"Life is not easy for any of us. But what of that? We must have perseverance and above all confidence in ourselves. We must believe that we are gifted for something and that this thing must be attained." – Marie Curie
"The strength of the team is each individual member. The strength of each member is the team." – Phil Jackson
"It's not the will to win that matters—everyone has that. It's the will to prepare to win that matters." – Paul "Bear" Bryant
"Volleyball: A game of intuition, imagination, improvisation and spontaneity." – Anonymous
"The difference between ordinary and extraordinary is that little extra." – Jimmy Johnson
"I am not a superstar, I am just like everyone else who plays volleyball." – Karch Kiraly
"The only thing that stands between you and your dream is the story you tell yourself that you can't achieve it." – Jordan Belfort
"It does not matter how tall you are, but how good you are at jumping." – Unknown
"Volleyball is not just a sport, it's a way of life."
"Believe you can and you're halfway there." – Theodore Roosevelt
"Excellence is not a singular act, but a habit. You are what you repeatedly do." – Shaquille O'Neal
"Success is no accident. It is hard work, perseverance, learning, studying, sacrifice and most of all, love of what you are doing or learning to do." – Pele
"When you want to succeed as bad as you want to breathe, then you'll be successful." – Eric Thomas
"Champions are made from something they have deep inside them: a desire, a dream, a vision." – Mahatma Gandhi
"If you want to go fast, go alone. If you want to go far, go together." – African Proverb
"I can accept failure, everyone fails at something. But I can't accept not trying." – Michael Jordan
"It's not whether you get knocked down, it's whether you get up." – Vince Lombardi
"Hard work beats talent when talent doesn't work hard." – Tim Notke
"You miss 100% of the shots you don't take." – Wayne Gretzky
"Don't watch the clock; do what it does. Keep going." – Sam Levenson