Playing badminton in the backyard is a long-popular holiday, summer, and just plain weekend tradition for many kids and families worldwide. With roots in ancient Greece, Japan, India, and England, badminton clearly appeals to many people. Young and old, women and men, this is a fun sport for everyone to play.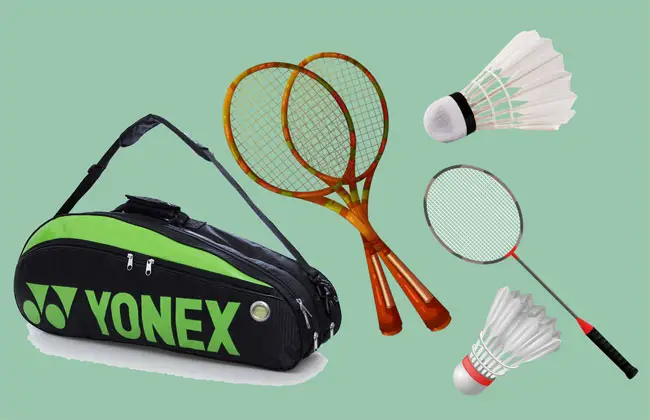 Getting a badminton set is an easy way to bring this fun game home. Of course, you could go out and buy each part of the equipment separately, selecting pieces one by one. But with so many good badminton sets out there to choose from, it is more than likely that you will be able to find a set that includes everything you're looking for together.
In addition to being more affordable than buying pieces individually, sets often come with a single carrying case, as well. This means it will be easier to store and transport.
So what do you want to look for in a badminton set? Well, first of all, how many racquets do you want? Some will include only two, while many others will include four. In most cases, getting four badminton racquets from the start is a good idea. This family game is very easy (and often more fun) to play in two teams. If you anticipate more than two people wanting to play, why not just get four racquets right off the bat?
Shuttles. Most badminton shuttles are molded plastic with a weighted end made of cork and/or rubber. These give great bounce and buoyancy against the racquet. If you are looking at the competitive play, you may want to go for higher-end shuttles, but for most people, just a standard shuttle will do. A set will generally include 2-3, but the more you get, the more prepared you are in case you lose or rip one, which is likely to happen at some point.
In terms of the net, a badminton set will almost always include everything you need to set up and secure your net. However, you can also find sets with a special case or bag to keep the net safe while it's in storage. If you want it to last more than one season, this is a good idea, as well.
Badminton Set as a Whole
If you're considering buying a badminton set, you're already off to a good start in bringing a fun game into your home for yourself and your family, friends, and kids' friends to play.
Badminton is easy to set up, easy to bring to a park, beach, or friends' house and takes up a relatively small amount of space when stored on a shelf.
Plus, it's easy to play, appeals to people of all ages, and is pretty affordable to buy. Most badminton sets will cost between $25 and $50. However, you can find higher-end sets with more pieces and higher quality regulation materials (and lower quality, less expensive sets that are not intended to last as long).
If you're looking for the right badminton set for your family, it's pretty simple. Just ask yourself the following questions:
How many racquets do I want? (2 or 4? How many people do you expect to want to play? For most people, 4 is the right choice here.)
How many shuttles do I need? (Most sets will come with 2-3, but a complete badminton set will include extra shuttles. This is especially a good idea if you have kids.)
Do I want to play for fun or competitively? (If you're competitive, you may want a set that includes rope to mark the boundary of the court. This makes it easier to determine whether the shuttle lands out of bounds, which is important if you're competitive.)
Do I want to bring my set to other people's houses? (If so, look for one that includes easy storage and a carrying case or bag. This also helps protect your equipment when you have them inside on a shelf.)
How long do I want my badminton set to last? (This is where quality and price come in. Buying a 'cheap' set at the dollar store will not last nearly as long as a good quality set from Spalding, Halex, Franklin, Dunlop, Carlton, or any other well-renowned badminton manufacturer on the market.)
Once you've answered these questions, you'll know exactly what to look for in choosing the set that's right for your needs.
Truly Badminton Set
You've decided it would be fun to play some backyard badminton. Badminton is a great game because badminton equipment isn't costly, it's easy to set up a court, everybody in the family can join in, and you don't have to be a super athlete to enjoy it. For that matter, badminton can be as competitive as you choose – from a simple game of serve and volley with your eight-year-old, all the way up to a Katy, bar the door and watch out for those bloodthirsty smashes.
Choosing A Badminton Set
One of the best things about badminton is that you can find a badminton set at just about any price, from a low of around $20 up to $140. As with almost everything in life, a high-quality badminton set costs more than a lesser quality set but only to a point.
A badminton set costing less than $20, such as the Gamecraft Badminton Set, includes four tempered steel racquets (nylon-strung), two ground sleeves, two shuttlecocks, two 1″ diameter steel poles, and a mesh net. The poles come in three parts, have thin walls (making them easy to bend), and have to be assembled. Ground sleeves mean you place the sleeves into the ground and the poles into the sleeves. The set does not include any ropes and stakes to help keep the poles upright and the net from sagging.
Get a Better Set
For a few dollars more, you can buy a set such as the Franklin Sports Intermediate Badminton Set for around $22. It has the same components as the cheaper set, but the poles are telescoping, so they don't have to assemble.
Assemble also hexagonal-shaped (for greater strength) and made from PVC plastic. The set includes stakes and net saver clips to help keep the poles upright and the net from sagging. The net has stronger tape at the top for reinforcement. The rackets are made from stronger tempered steel, have padded handles, and are strung with Hy-Sheep racket string.
A $50 Badminton Set
If you're willing to pay around $50, you can get a set like the Franklin Classic Series Badminton Set. Its net has a stronger binding and a top net cable for increased tension. There are four rackets will graphite handles and contoured, padded grips. The set has a telescoping, octagonal poles, and three pro-style shuttlecocks. There is also a heavy-duty carrying case and a one-year limited warranty.
Super Deluxe Badminton Sets
So, what will you get for, say, around $100 that you won't get in the less costly sets? One such set is the Park and Sun Badminton Pro Set. It has 1.5", two-piece, telescoping aluminum poles instead of 1" steel or PVC. It has four 10" ground stakes and a 1/8" guyline system with tension rings for enhanced stability. The net is official size with 1" top tape and 4" side sleeves.
The Park and Sun set also comes with boundary lines to help you set up the court, so there is no need to measure length and width. The set has three A-Grade shuttlecocks, four high-quality tempered steel rackets, and a high-quality carry bag.
Getting The Best Price On A Badminton Set
If you'd like a good quality badminton set, but without having to spend nearly as much as you would for dinner and a movie, all you have to do is shop around.
For example, you can pay as much as $115 for the Park and Sun Badminton Pro Set described above, or with a few minutes of online shopping, get the same set for as little as $79.18.
The intermediately priced Franklin Classic Series Badminton Set sells for $69.99 on at least one online shopping site but can be purchased for $49.99 at another – a savings of $20.
Here are some other badminton sets and their typical costs:
Heritage Badminton Set $130.00
Frontgate – Tournament-quality Badminton Set $129.00
Sportcraft Premium Combo $63.99
Deluxe Badminton Set $42.00
Gamecraft Badminton Set $35.95
Franklin Sports Advanced Badminton Set $29.99
Classic Badminton Set $28.22
Regent Badminton Volleyball Set PVC poles $13.99
Buying A Badminton Set
For years of backyard fun, your best bet would be to buy a moderately priced badminton set in the  $40 to $50 price range. This will buy you a more durable badminton set where you won't constantly be trying to keep the poles upright, the net from sagging and where the rackets will give good service for many years without the strings losing their zing.