If you want to know how to play netball, then here's a rough guide to the game, with a bit of history thrown in for good measure.
Netball is a game played by two teams, each consisting of 7 players.
Games are played on a netball court, which is 100ft by 50 ft in dimension, consisting of 3 equal thirds, and with 2 raised "goals" at each end. The idea is to score in the opposition goal. A single goal or point is awarded for each goal scored, except in some short play tournaments when extra points can be scored depending on where on the court the goal is scored.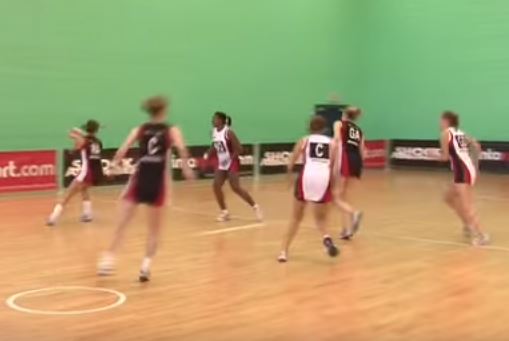 The matches are 60 minutes in length and are played in four equal quarters of 15 minutes.
Teams consist of 7 players, with the following position:
– Goal Keeper
– Goal Defence
– Wing Defence
– Centre
– Wing Attack
– Goal Attack
– Goal Shooter
Each player wears a bib highlighting their position and can be interchanged throughout the match. Positions can be changed throughout the match, so at the end of each quarter, the player at "Goal Attack" could change position to "Goal Defence"
Players are limited to where on the court they can travel, so for example, only players in the "goal-attack" & "goal shooter" positions can enter the oppositions goal area.
History
Netball began in England in the 1890′s and is recognised by the IOC as an Olympic sport. It is estimated that it is played by 20m people in 80 different countries worldwide. The netball governing body is IFNA (International Federation of Netball Associations), which is based in Manchester, England.
The Netball World Championships are played every 4 years, with a Netball World Series held every year, and is also played during the Commonwealth Games.
The English Netball league is called the Netball Superleague, with the ANZ Championship played in Australia and New Zealand.
Indoor Netball
Compared to the outdoor version, indoor netball is relatively new to the sporting scene. While outdoor netball has been around for decades, the popularity of indoor netball has increased substantially in recent times with the sport now amongst the fastest growing in many countries.
This growth in popularity can be attributed to the fast-paced nature and high intensity of the sport making it an exciting, end-to-end game with non-stop action which becomes an appealing alternative to more physical sports such as basketball, soccer, and football. The indoor version has also gained popularity due to the courts being indoors which is favourable due to its protection from the elements, better lighting and better spectatorship which all contribute to enhancing and providing an overall better playing experience.
The Sport Become More and More Popular
Indoor netball has grown substantially across Oceania and the world. In many countries, in alignment with the growth of the sport, there have been a growing number of high calibre players whose abilities and skills have been recognised, earning them the selection to represent their countries respectively in recent years for world tournaments.
In summary, indoor netball is a highly competitive and dynamic sport that provides an opportunity for people to have fun while getting fit. It is a non-contact sport that men, women and children can participate in and enjoy on a social and competitive level all over the world.