History of Snowboarding
When looking at the history of snowboarding, most people will agree that Jack Burchett was probably the first person to attempt to make a snowboard. He fashioned a type of sled with a plank of wood and used clothesline and horse reins to secure his feet to the wood.
His efforts at making a snowboard took place in 1929, and it wasn't until 1965 that Sherman Poppen improved on his design. Poppen tied two skis together and attached a rope at one end to stabilize it for the rider. He called his invention the Snurfer.
Meanwhile, in 1963, Tom Sims had made a ski board for a school shop class. He continued to develop his ideas and, in 1977, produced his first snowboards. Jack Burton's contribution to the history of snowboarding is widely recognized.
He continued to improve on the Snurfer and designed the first board with bindings. Jack Burton kept developing snowboards and is credited with creating the first real ski technology for snowboards.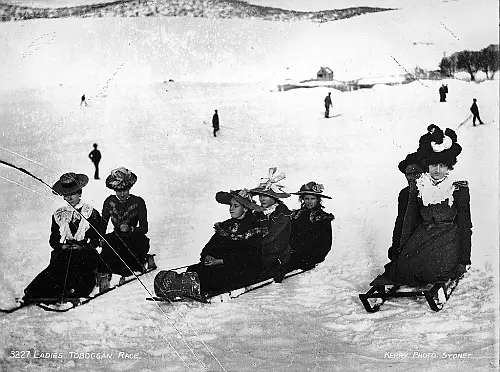 Sims and Burton contributed to the history of snowboarding and are presently two of the major players in selling and manufacturing snowboards. They continue to bring innovative ideas to the sport with unsurpassed quality.
Snowboarding Lessons
You may wonder why you should take snowboarding lessons. Well, you wouldn't drive a car without having some instruction first, would you? If you learn how to snowboard correctly, you will enjoy the sport more. We all tend to pick up bad habits if we don't learn something properly, so snowboarding lessons can help alleviate those tendencies.
You can take snowboarding lessons for both beginners and those wanting to improve their skills. For the beginner learning how to balance your weight properly, turn, stop and even fall without hurting yourself will be the basics.
Once you have mastered the basics, take some snowboarding lessons to master your skills or learn some tricks. Lessons can improve your style of boarding. After a few tries, you will want to carve new paths in the hill, learn how with a lesson. Trying to teach yourself can result in injuries, so try a lesson or two with a qualified instructor. You won't regret it.
Extreme Snowboarding – For the Thrill of It
There are many forms of extreme snowboarding, such as backcountry, heliboarding, and the X-Games. The two most prominent forms for most snowboard enthusiasts are backcountry and heliboarding.
The two generally go hand-in-hand, considering most boarders who are serious about riding untouched powder will ride to the top of the mountain in a helicopter.
Extreme snowboarding is a booming business, and there are a variety of businesses dedicated solely to heli-skiing and boarding. Package deals are usually provided.
Backcountry snowboarding is only recommended for those who consider themselves expert boarders because it can often be hazardous. The right equipment is necessary for the backcountry for an avalanche, such as shovels, transceivers, snow blankets, headlamps, and snowshoes. Extreme snowboarding in any form can be exhilarating as long as you are fully prepared.
The X-Games is an annual competition that professional snowboarders and newly sponsored boarders compete in. It consists of the halfpipe, big air, and border-cross competitions. The competitors are judged on their extreme snowboarding abilities, including how to perform the best tricks without error in the half-pipe and big air sections and their speed and control for the border-cross race.
Freestyle Snowboarding Let's You Do Your Own Thing
Freestyle snowboarding requires a different board than freeride or free carve styles of boarding. If you want to learn tricks, ride the rails, run the halfpipe or do jumps, then the freestyle snowboard is for you. The board used for freestyle snowboarding is generally shorter than other style snowboards. The shorter board allows you to have more control when you are executing spins and jumps.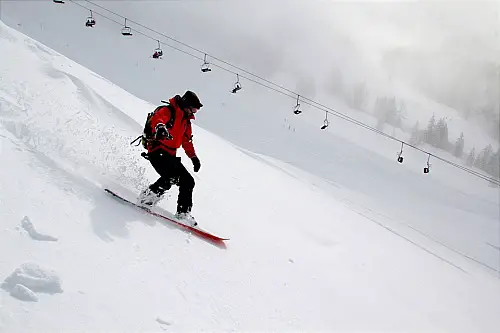 Freestyle snowboarding is a sport unto itself with its own equipment. However, if you like to board the halfpipe, you may want to consider having a special board just for that purpose. Keep in mind that these boards are only meant for the type of boarding they are designed for. Don't use a halfpipe board for freeriding.
The most popular form of snowboarding is freestyle, especially for those who enjoy participating in and watching competitions. The Olympics also allows us to watch snowboarding at its best and have given a huge boost to the sport. Show your style by giving freestyle a try.
Backcountry Snowboarding Takes You Off the Beaten Path
Backcountry snowboarding is becoming increasingly popular. Those who have a bit of a wild streak will enjoy this style of boarding. While backcountry snowboarding has its risks, there are precautions that you can and should take. We will cover a few of them here.
Before you even consider trying backcountry snowboarding, make sure you familiarize yourself with the safety equipment that you should take with you. It would help if you always carried an avalanche transceiver with you. In fact, you should take a class in avalanche awareness, and your life depends on your level of preparedness.
Bring a small backpack with you to carry extra clothing, food, water, compass, waterproof matches, first aid kit, headlamp, and water purification tablets. You will also want to have a pair of snowshoes as you won't have a chair lift to help you get up the hills.
The best piece of advice that we can give you when backcountry snowboarding is always to be aware of the weather conditions around you. Be prepared to leave the area quickly if conditions change. There is nothing quite like finding a powder that thousands of other people haven't carved. Whether you climb into unknown territory or get dropped off by helicopter, you are in for an adventure like no other.
Learn the Tricks with Snowboarding Rails
Freestyle snowboarders use snowboarding rails to perform tricks. The rail is actually a metal bar that snowboarders (skateboarders too) slide across. In fact, the idea for snowboarding on rails came from watching skateboarders do the same. Some parks have snowboarding rails set up for boarders to use. Rails are not for beginners, though, so tread carefully!
If you want to learn how to use the snowboarding rails, the best thing is to take a class or find a pro to show you the ropes. Injuries from this extreme type of snowboarding can be serious. Obviously, you will hurt much more hitting something solid like steel pipe than you would be landing in a snowbank.
Before you attempt snowboarding rails, make sure you have accomplished how to jump safely and how to turn. At the same time, lots of fun, grinding, and railing should only be done when you are an experienced snowboarder. So if you like to try something a little riskier, give it a go.
Test Your Skill with Snowboard Video Games
Snowboard video games are a great way to get your fix when you can't get to the hill. There are many virtual games out there that make you feel like you are the one doing the tricks and jumps. Snowboard video games can really get your adrenaline pumping.
Snowboard video games manufacturers have kept up with the sport's popularity by bringing all the exciting elements of the sport into your home. You can race with the best in snowboard cross, learn how to navigate the pipe, or jump with big air. One of the most popular games right now is Coolboarders 2. Another is SSX Out of Bounds.
You can really test your dexterity with snowboard games. Could you give it a go and have some fun? While you are dodging obstacles and racing down the pipe, you really can feel like you are flying down the slopes at your favorite resort.
Snowboard Movies
Snowboard movies or DVDs are widely available for purchase or rental. Snowboard videos allow us to escape from the real world for a few hours and indulge in our passion for the sport of snowboarding. These movies entice and excite us into wanting to hit the slopes and have our own adventures.
Extreme snowboard movies show us tricks that seem to be almost impossible to accomplish. We hold our breath and wait for the safe landings. Most of us would never attempt to replicate what the professionals try but, isn't it fun to watch?
Instructional snowboard movies can help us to improve our snowboard experiences. We can learn new tricks, tips, and techniques. These videos are produced by professionals who emphasize safety when teaching tricks.
Movies bring a new element to our lives, allowing us to dream about new and exciting adventures. We have some suppliers listed on this website. Please look at their selections, grab a bag of potato chips, sit back and enjoy.
Go for Gold with Olympic Snowboarding
Snowboarding really caught the world's attention in Nagano, Japan, in1998 when snowboarding became an Olympic event. The events are divided into two styles, freestyle, and alpine. The first two Olympic snowboarding events were the half-pipe and the giant slalom.
Ross Rebagliati of Canada won the very first medal for snowboarding in the giant slalom. Since then, other snowboarding events have been added to the games, and the original events have been changed slightly. The giant slalom is now the parallel giant slalom, and the half-pipe is now the superpipe.
An exciting new Olympic snowboarding event added in 2006 in Torino, Italy, is the snowboard cross competition. In this event, four snowboarders race through gates and over jumps to the finish line. New elements of excitement and danger from full-body contact add to this event.
Olympic snowboarding is now a trendy event in the games after just a few short years. The competitors have almost a cult following. This "once on the side" sport is now mainstream.