TOP 3 ASICS Netburners!
Gel-Netburner Ballistic
The best feature of this bad boys is that now it's supporting a upper, lower mesh profile and it has increased forefoot flexibility! This makes it a great running shoe. This netball trainers are for sale in the whole world you can find them in UK, NZ, EU, AUS and USA! The best shoe in netball from Asics this year I can say, the Gel-Netburner Ballistic provide netball players with the feel of a running shoe but it keeps the court durability! And you can get them in black color!
Gel-Netburner Ballistic
Gel-Netburner 16
This are my personal favorites and I will tell you why! This ones are made especially for support and protection! This is the only netball shoe that offers a (Plus3) a 3mm heel gradient that reduces the Achilles tendon pressure. Whenever the strain levels during you drills are higher than they should be you can count on Gel-Netburner 16.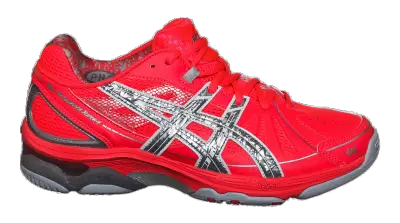 Gel-Netburner Ignites 8
This ones are for cushion and stability. The best feature of the netburners is that they have an asymmetrical lacing that reduces irritation across the instep and creates comfort and fit. This is the best footwear for mid-court neutral foot types. It has a soft but stable platform feel and a external heel clutch that will improve comfort and fit while being light!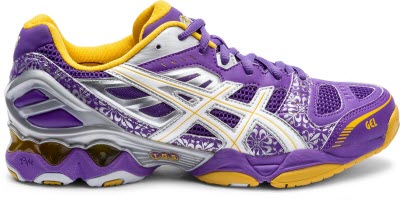 That is pretty much it for Asics I am sure you can find your fit in at least one of the three above, Asics netball trainers deliver great support and quality. Let's move on to Gilbert!
Gilbert Trainers
Gilbert Flash and X2 Netball Shoes
When we hear Gilbert we hear quality and this time it flashes in front of our eyes! The Gilbert Flash Shoes are endorsed by Tamsin Greenway and INF Umpires. It is great for dynamic movements because of the key arch support from the instep stability by Dual-Density. It is a great running shoe and created specifically for netball! If you have a slightly narrow foot this are the ones you should go with! They give you a fool range of movement and stability! Try them and you will not regret it!
Both of them are a great find and will keep your feet happy! This is something not every brand can promise! Both Junior and Adult are the same just the size is different!
Gilbert Blaze X4
A very lightweight but supportive shoe created for players who cover a lot of the court during the game and that requires lots of quick movements.
A light mesh with strategic supportive elements, that provides midfoot stability. It is something you could start with and then chose something more fit for you! But for a beginner this shoes are great!
Same thing here there are two types of Gilbert Blaze X4 the Junior and Adult the difference is the size!

Gilbert Elite Ladies and Juniors
This is the next gen in netball I have to say! Combining the XTra-Dura and Hex-PRO technology to create the next level performance netball shoe! It is lightweight designed with TPU shank piece and a strategic pivot point to add stability. It has a padded tongue and collar for more comfort and a full length shock absorption system. You just can't go wrong with these! Both for Junior and Adults!
Netball Dresses
Gilbert Eclipse II Netball Dress
The fabric that it is made of is spandex for complete flexibility and movement. It has front and back Velcro so you can attach your patch bibs! This is the second series that has a fresh new look that will make you stand out in the team!Same thing goes for dresses like it did for the trainers! You can buy them all around the world UK , EU, USA, NZ, AUS, anywhere!There are many different netball dress designs and you can chose from a big variety ! And you can Find cheap dresses too! No need to spend a fortune!
Netball Skirts
There are many different types of skirts! For cheap and high quality!
IWith all the netball uniforms around you can create even your own. A small combination of this and that can create something great! But if you are not feeling that artistic I will help you chose from a few basic ones and then go more advanced! I will leave you with some links you can look at and when you have chosen something you like I will be waiting for you!
Netball Bibs
Like every team you must have your netball bibs! they can be flashy or ordinary but you must have them! How will you know in the middle of a intense game to whom to pass? Get your netball bibs for cheap and different models like with Velcro!
Well, well! We are almost dressed for netball and ready to kick it! But there are a few more things we need to take in consideration! That would be the netball ball and the netball post! Two more basic things and you will be ready to play!
Netball Ball
The netball ball may differ from brand to brand but the basics are the same! Here are a few netball balls from Gilbert.
Gilbert Netball
We have a few crazy models here and there but they sure do look great that's what I have to say . Sure after the few neat ones we have the more official looking netball balls!
You can't just play in a official match with a crazy looking ball like the first ones you need to be more official!
Mitre Netball
Like Gilbert, Mitre has a few crazy ones too! And one thing that I forgot to mention at the Gilbert section is that there are bouncing balls too! So don't worry too much about that! The quality of both brands is incredible! You will not regret it!
And last but not least the netball posts!
Netball Post
There are many questions in this section that people ask, like. How tall is a netball post? Well I'll give you the answer right here and right now! It is 3.05 meters that is 10 feet and the metal ring is 38 centimeters and that is 15 inches!
Now that we got that out of the way netball posts are very similar to the basketball ones but they don't have the back board which makes netball a very accurate sport!
There are many places where you can buy a netball posts I will give you a few links where you can check netball posts for sale!
Well this is the end of another post on our small website and I hope that you found what you were looking for and I hope you will come and visit us again!
References:
Basic and Advanced Netball Training Drills