Ping pong or table tennis is one of the games with several benefits, and it's mostly played in-game halls, corporate places, and homes. It's an addictive sport that requires adequate preparation and training.
Being successful in this game requires athletic ability, skill, and endurance. It also requires using the correct ping pong gear. The ping pong gear is vital in improving your game since ping pong is enjoyed with good equipment such as ping pong tables or paddles.
Now, let's review The Best Indoor and Outdoor Ping Pong Tables you can buy today.
Joola Inside Table Tennis Table with Net Set
This is a quality competition table tennis table with excellent durability, ideal for the home, gym room, office. It has a standard size of 9×5 feet with a regular height.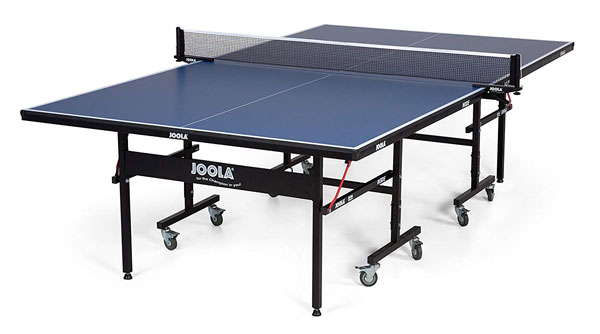 Although it's expensive, the quality is worth the price. It has a different thickness of fiberboard, which determines its durability and stiffness. Different 4-wheel trolley mechanism supports both halves of the table and holds it in place. You can fold this table in half to form the playback mode for practice.
Pros
Easily assembled
Foldable with decent mobility
Net stays upright
Different thickness available
Durable
Cons
Not sturdy for competitions
STIGA Advantage Table Tennis Table
STIGA's table tennis table is of good quality, and they have been a leading table tennis table manufacturer. It is suitable for competitions, recreational purposes and very easy to set up.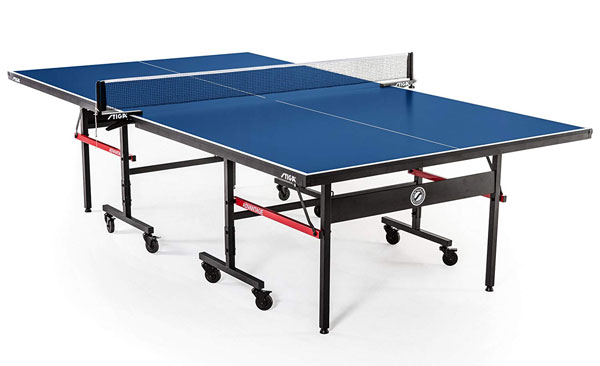 It is half-assembled by the manufacturers and takes few minutes to complete the assembly after purchase. The net on the table is similar to the ones used in tournaments with 72" cotton blended.
This table can fit into anywhere such as offices, schools, homes because of its size, 9×5 feet. The only problem with STIGA is that it doesn't have playback mode, so you'll need an opponent to play with.
Pros
Easy to assemble
Cotton blended net
Sturdy
Smooth finish with good bounce
Both halves of the table are independent
Cons
You cannot adjust the table height
Stiga Vapor Outdoor Table Tennis Table
Having a good table tennis table always makes the game more enjoyable. I have played table tennis for about two years now, and I have played at different tables. The table I am currently trying out is the Stiga Outdoor Table Tennis Table – Vapor.
I was told about this particular table by a friend, and I decided to try it out. I have noted that it has several outstanding features which are put in place to enhance overall performance.
Features
Some of the primary features I have noted about this table tennis table include its construction of aluminum plastic. This makes it an ideal outdoor table as the aluminum-plastic tends not to be affected by different weather conditions, including rain.
The table also has an outdoor net and clamp set, making it ideal to use outdoors. I have set the table in my backyard, and we do not have to put the table back in the house even at night.
The table has a blue top and silk tournament lines specially designed to endure the outside environment. These materials used on the table resist warping, therefore, making the table more durable.
For people who would like to move the table from one position to the other, it comes with a trolley wheels system which can be conveniently locked when the table is being used. I always keep the wheels locked since I do not move the table very often, but I know many people found these wheels are essential as they ease them to move their tables effortlessly.
This table tennis table also comes with steel legs and four levelers, which provide optimum support. The undercarriage of the table is meant to be rust-resistant where it is powder-coated. Other cool features of this table including anti-tilting action, which enhances the stability of the table. It also has 1.5 inches steel apron and a two-piece folding design with a playback feature.
The specific dimensions of this durable table tennis table while assembled are 107.87 inches by 60 inches by 29.92 inches. The playback dimensions are 68 inches by 62 inches by 62 inches. Other dimensions of the table include 6 millimeters blue top with silkscreens and a ball-bearing caster. The steel apron on the table is 1.5 inches, and the steel legs are 1.5 inches too. Moving this table is easy as the total weight it carries is 140 lbs.
Pros
Easy to assemble – the table is delivered with everything in place, and its assembly is straightforward.
Durable – the aluminum-plastic used in the construction and the other materials used make the table very durable.
Smooth – the blue top with silkscreens makes the table very smooth and convenient to use.
Simple transportation – the trolley-like wheels make moving the table from one place to the other very easy.
Cons
Spare parts – If some parts get damaged, it is quite challenging to find spare parts.
Relatively big – this table is relatively big, which means that it needs ample space while being used and while being stored.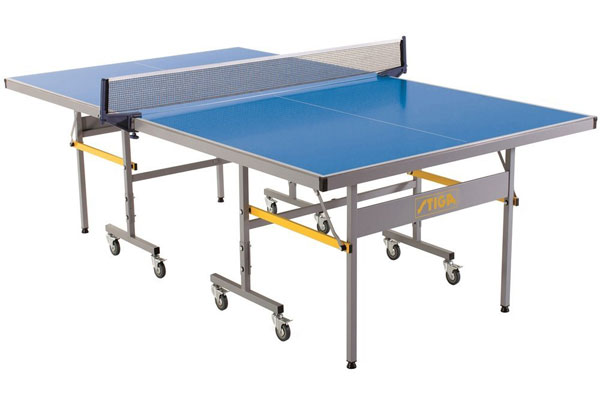 Final verdict
I have been using the Stiga Outdoor Table Tennis Table – Vapor, and I can confirm it is an ideal table for people who love table tennis. All the table features are put in place to ensure that playing on the table is enjoyable.
Even if it has a few issues, I can confidently say that this particular table is one of the quality table tennis tables you can rely on for your table tennis playing experience.
* Stiga Vapor is now being upgraded to a new version and is known as Stiga XTR.
Killerspin Table Tennis Tables
Killerspin is a brand name for table tennis equipment. It is especially well known for the manufacturing of table tennis tables. The company is also actively sponsoring and hosts table tennis tournaments around the world. Currently, you can get the Killerspin products and equipment in fourteen countries.

Killerspin has sponsored a lot of international ping pong events with their Killerspin table tennis tables. You can generally observe their equipment and products on famous sports channels such as ESPN. The brand has been specifically present at the Arnold Sports Festival – an event that popular movie star Arnold Schwarzenegger hosts.
Prices Range for the Products
Depends on which type of Killerspin table tennis tables you want, the prices can vary from $700 to $3,000. For a price of $700, you can purchase a Killerspin MyT5. For $2,850, you can purchase an excellent quality Killerspin Revolution SVR-B (Black Top) ping pong table.
For the tables supplied by Killerspin, you can categorize them into 2 types which are either indoor or outdoor. Should you enjoy playing table tennis in outer space, it is good for you to buy the MyT5 Street Edition or the MyT7 Outdoor table tennis table.
The price is around $700 – $850, which is quite affordable considering the table is manufactured from robust materials to hold up against the outdoor conditions.
The MyT series of Killerspin ping pong tables can be half-fold for easy storage or a single player to perform playback for warming up. Some of the MyT table models are feature levelers to adjust the surface for a better playing experience.
The table's leg also having an easy up and down pin lock, which makes the table stands still without swerving right or left when you are playing the game.
Killerspin MyT5 Table Tennis Table Review
This table is specially made for newbies. It is good for beginners to practice their ping pong skills by playing with the Killerspin MyT5 table tennis table.
For the Killerspin MyT5 table, the material used to manufacture it is especially reliable and long-lasting. It features a top covering that provides an incredible bounce for your ping pong ball.
It's usually frantic for a player to find the appropriate bounce on the ball with many other ping pong tables. This is because most of the tables are not make with distinctive covering to enhance ball bouncing.
In many instances, beginners are likely to quit playing the sport if they fail to get the ball over the net. The Killerspin MyT5 will solve the issue as the table is specifically designed to give amazing bouncing of the ball.
The MyT5 table tennis table is designed with a .63-inch (16 millimeters) MDF tabletop. It provides a high-quality 16-layer finish with its specially engineered Repeat Roller Coating (RRC). This coating helps bring about the consistent quality of play and bounce so a beginner can enjoy and improve their skill real quick.
The table features heavy-duty white metal frame caster wheels that are specially designed for easy movement. Another cool feature is building a safety locking system that allows safe and sound table placement when playing the game.
Revolution Series For Sale
The revolution series of the Killerspin table tennis tables are designed for professional tournaments, and you can always find these tables in the Killerspin Extreme and Spinvitational Tournaments.
This series is proudly presented with its outstanding design of excellent stableness and distinctive groundbreaking base with sturdy metal arched constructions.
The superb combination of the design and structures makes these revolution series the most impressive tables that you can get. Besides, this type of ping pong table requires minimum assembly to set it up quickly and play in no time.
Killerspin Revolution Table Tennis Table
Killerspin table tennis table is not designed for competitions but to improve performance. It has a beautiful look that might add beauty to any place it is kept, such as a recreational room at the office or playroom in your home.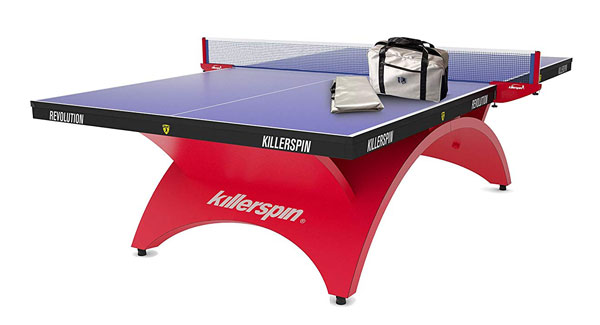 The base of the table is plated with arched aluminum to provide higher stability. The surface of this table has an anti-glare coating for full visibility during a match, and it is designed with a premium 22mm thick MDF. It is easy to assemble, and the frame is held firmly by stainless steel hinges.
Pros
Colorful design
Anti-glare surface
Stainless steel hinges
Arched support
Cons
Cornilleau Indoor/Outdoor table tennis table
Cornilleau has a different support mechanism and is made of galvanized steel. It has rigid supports and big wheels to cruise through bumps and stand firmly on all surfaces. The supporting bars of this table is also made of galvanized steel.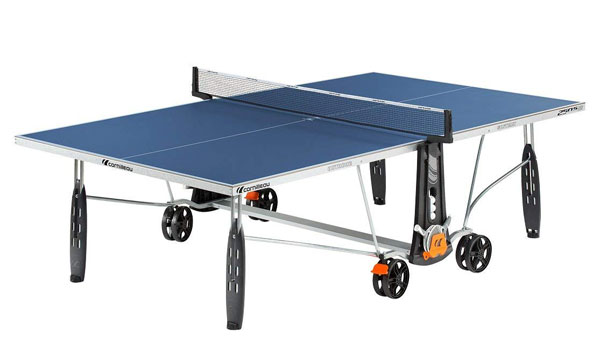 The table's surface is laminated to provide a perfect bounce and makes the table very durable to withstand all weather conditions. The 7mm laminated surface reduces the glare from the table, and it is foldable to allow the playback mode. The portable body and strong frame of this table make it suitable for indoor and outdoor sessions.
Pros
Made from galvanized steel
7mm laminated surface
Large double-wheels
Levelers and rigid supports
Cons
Very expensive
Wheels can warp if left uncovered outside
Butterfly Centerfold Rollaway 25
For players who want a top-quality ping pong table for practice, this table is the best fit. It is one of the best quality tables with Butterfly's name, a widely known brand in amateur, club, and professional circles.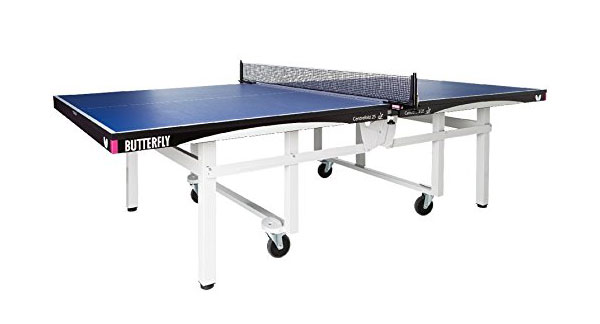 This brand is also associated with top-quality table tennis equipment such as blades, balls, and table tennis tables.
The Butterfly Centerfold Rollaway 25 table tennis table is ITTF approved, making it suitable for competitions. It has a 25mm blue tabletop, sturdy legs, and is portable and foldable for easy storage with a 5-years warranty.
The tabletop has a superb bounce, and it's good-looking. It is also easy to set up as it comes reassembled, so you only need to add the net and post.
Pros
No assembly needed
Approved by ITTF
5-years warranty
Cons
Very heavy
No ball storage compartment
Tabletop needs absolute care and attention.
Butterfly Playback Rollaway Outdoor Table Tennis Table
The Butterfly brand is known for its durability, high-grade technology, and creativity. One of its products, the Butterfly Playback Rollaway table, is ideal and economical. It is also a decent table that guarantees many years of exciting play. The table requires some extra space. It is a perfect table for recreational centers, homes, and offices. Let us have a look at its features.
Best-selling features
Tabletop: It has a 19mm thick tabletop. The thickness is sufficient to offer you a superb bounce and fast-action play. The playing surface is ideal for both fun playing and for training purposes. A steel-made guard measuring 1.5 inches shields the top. The massive duty rail system enhances the table's durability. Many competition tables have a top thickness of 25mm. As such, the19mm thickness provides a decent bounce.
Structure: The Butterfly Playback Rollaway is made of steel, making it durable and rust-free. It also has a folding system that allows the net to remain attached to the table. You do not need to keep on reattaching the net system all time.
The table also comes with many disassembled parts. After purchase, it is recommended that you set some time to carefully and adequately assemble and set up the table. The user setup manual is easy to follow as most of the steps are diagrammatically explained. Once you set up, you are assured of many years of satisfactory play.
The Synthetic laminate surface is waterproof, perfect for all-weather use. The table has a full size of 9 by 5 ft. There is a 36mm metal rim that enhances stability. The table has a robust steel undercarriage, a center frame, and 4 double wheels with rubber tires. The wheelers assist in moving the table from one place to another.
It is convenient for a single-player game due to its playback position. You can fold One-half into a storage position. The ball-bearing casters help in ball protection and storage. Its 2 safety levers protect the users from harm.
Price and customer satisfaction: Butterfly Playback Rollaway is one of the most affordable ping pong tables on Amazon. It is a table that is recommended to all table tennis lovers. Reviews from users show that they are satisfied with its design, workability, and playability. It is a premium table that is worth every penny spent.
Downside
The table, when folded, becomes a little bit bigger and consumes extra storage space. It is not fit for homes that have limited space. It measures 73.5 inches in height and 24.5 inches in width when folded. Also, the table takes a long time to assemble for the first time. However, the process is simple and a one-time process.
Final word
Butterfly Playback Rollaway is recommendable for everyone. The 19mm top guarantees you a decent bounce. It is also a heavy-duty table fit for homes, training, tournaments, and recreational purposes. It does not require consistent assembling after the initial setup process. You only need to fold it and store it when not in use. The steel undercarriage, the wheels, and 1-inch steel legs ensure that the table is always firm on the ground. It does not flip when playing.
Kettler Indoor Table Tennis Table
KETTLER has always produced a great quality table for table tennis play. Especially the Champ 5.0, which is receiving a very welcome from all ping pong players.
The table has a thickness of 7/8″ for the tabletop with a wood core for a real table tennis table bounce! This top is made specifically for table tennis play. The top has total protection from the weather with a totally sealed aluminum encapsulation.
Hidden robotically welded sealing of the wood top totally protects the top from the elements.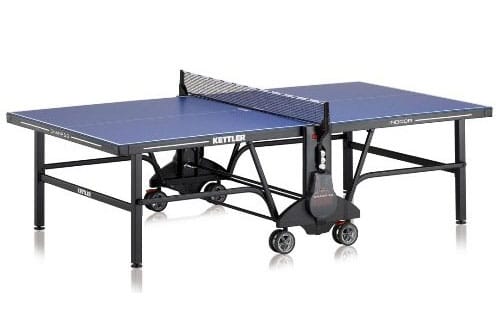 Low Inconsistent Bounce
Typically ¼ inch, which is expressed in mm, usually like 6 to 8 mm or so. It is not designed and made for table tennis play. The Champ table tennis table is often called aluminum composite panels which sounds like Kettler, but this type is usually a thin plastic core with thin aluminum sheet laminations.
This KETTLER tabletop is featured with a solid attachment to the chassis.
Below- screwed Onto Chassis
The tabletop is solidly attached with screws and brackets to the Chassis below. It is a special design exclusive to Kettler, and it has screws attached to a special channel.
They Must glue thins Tops To Chassis Below
The tops are so thin that you cannot screw them to the chassis below. Glue is a poor means of attachment, especially for outdoor products. The tops tend to peel off the chassis.
Kettler Table Tennis Tables Will Corrosion Free in Any Weather
The tables that are being manufactured having total Protection with a totally sealed aluminum encapsulation. Hidden robotically welded sealing.
Weatherproofing- Kettler chassis parts are dipped in a corrosion-proofing solution before being powder coated with four more powder coating than other tables.
Thin Powder Coating Makes Most Vulnerable To Corrosive Influences
Table tennis is traditionally an indoor activity, so the typical table tennis company has little experience making outdoor products. Without experience in making outdoor products, the others are prone to corrode.
This is an excellent table with a 7/8" thickness. It has a good quality and folds up easily on each side.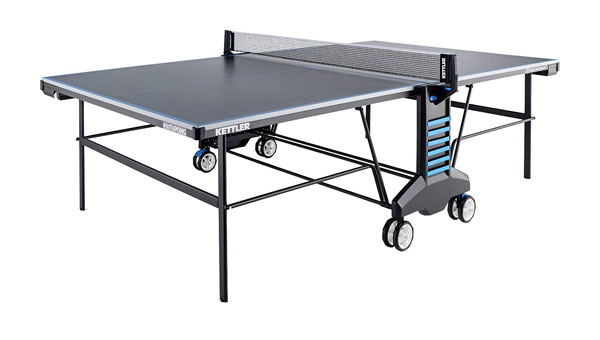 The table surface offers a consistent bounce, and it comes with a ball and paddle holder for added value. Once it is set up, it gives pleasure to play on.
Pros
Integrated racket and ball holder
Suitable for tournaments due to its size and quality
5" rubber wheels for easy transport
2" square steel legs for stability
It folds easily and portably
Cons
Conclusion
Before making that purchase, go through the above reviews carefully. Consider the warranty period, integrated ball and racket storage solution, tabletop thickness for a good bounce, sturdy legs, and finally, the product's price.