1. Yasaka Ma lin Soft Carbon Blade Review
This is a blade where a lot of close-to-the-table players like a lot. The head is a little larger, 15.9x 15.1, and is around 82-85 grams. It loops very well and has a lot of ball feedback. Counter-driving is also good. Backhand drives and blocks are crisp and controlled, and drives have a lot of pop. I use mine for defense on the bh. I have tried it in long and medium pips-out an ox, and the blade might be a little fast (catapult) for ox. I have used anti on the blade, and it performed excellently.
Plus: blade does it all, control-power-large sweet spot, tensor rubbers work well
Minus: not the best blocking blade-a little top heavy-enjoyable on defense ready-made for anti or pips out.
Before that, the only experiment I have with the Yasaka brand was I've hit with a Yasaka Mark V GPS rubber. A friend of mine uses the Yasaka Mark V GPS, which is a favorite rubber of his.
The Yasaka Ma Lin Soft Carbon is a 7-ply blade with 5-ply wood and 2 ply carbon.
This blade outer veneer is the same as the Yasaka Extra Offensive blade. Its medium soft characteristics are appreciated by players who put control as their priority. The 2 layer of carbon fiber is very thin to improve the speed and enlarge the sweet spot. Together with the thicker wooden middle veneer, it gives good power.
My ratings (out of 10)
Speed: 9.2
Contol: 8.3
Ply: 5W+2C
Weight: 89g
I do find out that blade weight, as well as rubber weight, does vary. I just received a 729 L-3 aramid blade, and the weight was 94 grams. 12 grams more than my other one. I have also noticed that many players prefer a heavy-headed blade at times. We often chat at our club regarding rubber and blade combinations. Which rubber works better on what type of blade or surface.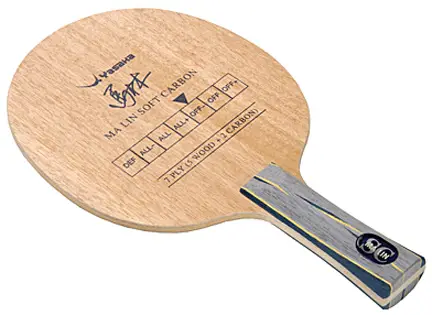 Example: Ma Lin soft carbon *(soft, thin carbon) and a combo of peacekeeper ox and Yasaka HS 1.8 on the same set up with the Butterfly Gergely 21*(hard carbon -hinoki wood) I found the peacekeeper ox was more controlled on the gergerly21 as well as the fast Yasaka hs rubber. In fact, the Yasaka outperforms on the Gergely, and the 729 cream works very well on the ma lin blade. The throw angles are lower on the carbon blade. I would like to see some feedback on the blade and rubber combos that perform well on some blades and are terrible on others.
Testing
729 L-3 aramid 94grams (reordered one at 82 grams)
Peacekeeper ox BH, Donic big slam 1.8 FH
The blade weights vary even in the same model. The manufacturers normally publish a range like 85 +- 5 gm. In my opinion, if the blade weight goes beyond 10 gm, that is something to be concerned about. One of my favorite blades a long time ago was Butterfly Joo Se Hyuk. When I have started playing, I had that blade (Yes, I'm a big fan of Joo Se Hyuk. I have met him two years ago in Europe.). I remember the first blade that I have bought weighed 86 gm. Then a year ago, I got the same Joo Se Hyuk blade from Paddle Palace, which weighs 105 gm. I had to live with that blade for a while before selling it.
While for beginners, I would advise you to buy the pre-assembled table tennis bats first instead of the custom blade and rubber.
2. Stiga Intensity NCT Table Tennis Blade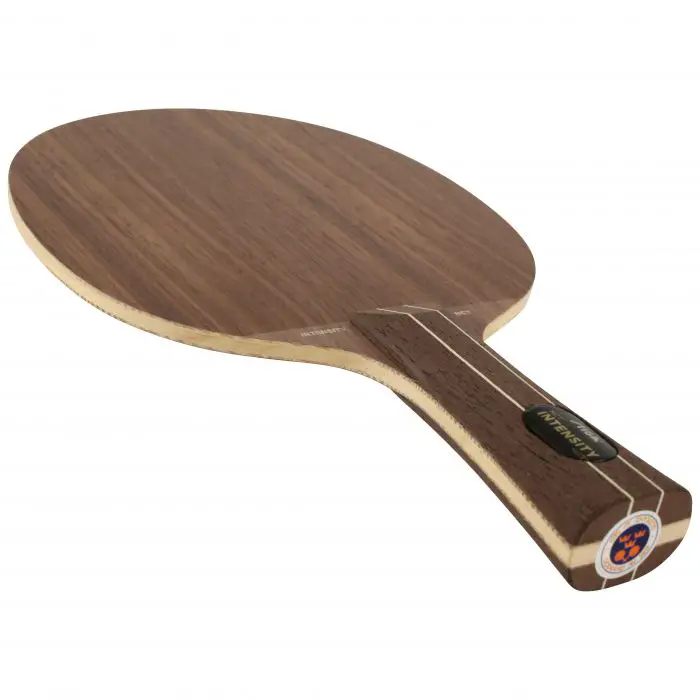 If you are a table tennis player but not aware of the blade that can help you play a better game, you need to look at this Stiga Intensity NCT table tennis blade. This killing weapon can make you play faster than your opponent and win the game.
Let's take a look at the features as well as the pros and cons of this blade.
Let's begin with the cons first:
There is only one drawback about this Stiga Intensity NCT blade. Its edges are sharp where the face of a racket is twisted into the handle. Thus, it will hurt your middle finger, especially for the shakehand player. To make your grip more comfortable, you will need to use sandpaper to rub the edges to rounding the sharpness.
Now, let's take a look at the pros:
If you are an offensive player and love to play ping pong with a fast blade, then this blade really suits you. The Stiga Intensity NCT is a lightweight blade that doesn't make your hand tired, and you can play with this blade for hours. You don't need to worry about carrying this blade in your hand. Even you do not have a strong arm.
You will find a large sweet spot on the blade, which response quickly with excellent dwell time. The control is also excellent. The speed will surprise you when you hit the ball.
Feature of the blade:
Speed: 88
Control: 68
Thickness: 5.9
Plies: 5w
Weight: 82g
If you are an offensive style of play, then this Stiga Intensity NCT might be the one that you are looking for.
As the most common material that is used to manufacture a table tennis blade would be wood. This blade is no different, and its face is made of either sponge or rubber. The sponge or rubber can be pimpled or smooth in texture.
Different types of table tennis paddles provide various playing properties as well as frictional levels. You may pick a blade that is well suits your needs and playing style.
Other than this, you may also want to check out this top 10 table tennis rackets/bats to learn more about the different types of blades that you can get in the market.
3. The Butterfly Primorac Carbon Blade
Figuring out which blade and rubbers to use is so difficult. First, there are so many to choose from, and second, you will hear everybody have an opinion on what you should use. After going through all the choices and listening to countless opinions, I switched to the Primorac Carbon by Butterfly.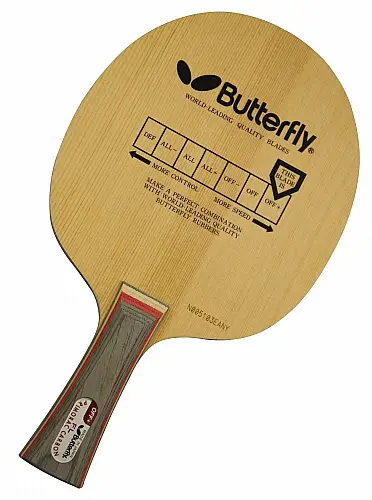 I wanted to switch because I needed something faster, so I didn't have to put much effort into my strokes. It was wearing me out. I combined it with a softer rubber, the Sriver G3 FX, one of my favorite. I have been playing with this combo for a week now, and this is what I think:
It is definitely a blade for players who practice consistently three to four times a week. Since it is pretty fast, you need to have a great feel in your arm to control it. It is especially amazing when you flick or loop the ball, great control. You can hardly ever miss doing that.
When blocking, though, things are not as easy… I am having a hard time controlling the ball when blocking. It seems like you need to be very precise to get an amazing block. If you are slightly off the right position, then the ball seems to be either bouncing off the racket in all directions, or it just falls into the net. It works better when you hold your racket very firm and steady, with no movement whatsoever.
I think this might be the greatest challenge for me with this blade. To go from a very soft arm when initiating the attack to a very firm hold when blocking. When I master this subtle change, I will be thrilled with this blade for a while.
I am very impressed with this blade is the speed you can generate when smashing or fast attacking. The ball flies off your paddle at lightning speed. Your opponent needs to be very fast to react and return that. Incredible.
One last but not least aspect of this blade I am also thrilled with is the spin I can generate with my serves. With a little effort, you get a great amount of spin onto the ball. Love it.
I am a close-to-the-table and mid-distance player with a great touch in my arm. This blade forces me to have my arm relaxed and play a more technical game. I think it will help me bring out the best in my game.
I guess we will have to wait and see…
Specifications:
Class: OFF+ Feel: Hard
Plies: 3W+2C
Weight: 88gr
Blade thickness: 6.9
Blade size: 157X150mm
FL Handle Size: 100X25mm
ST Handle Size: 100X23mm