There are so many sports played all over the world. Sports are popular depending upon their geographical conditions. Among the most popular sports, Football is top-rated in South America and Europe. Tennis is very popular in Europe and America.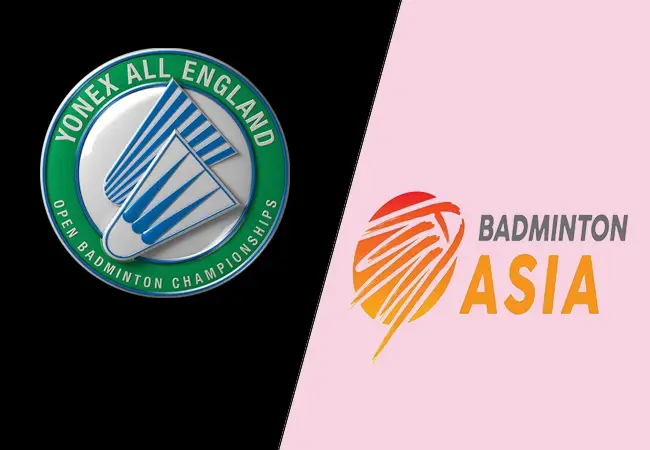 In Asia, Cricket is the most popular sport played in almost all parts of Asia. One other sport which is very popular in Asia is Badminton. It is trendy in East Asia, especially in China, Japan, and South Korea. The different championship is organized every year in all over the world and world's top players participated in these events regularly.
All England Badminton Championship
Badminton is played by either two opposing players or two opposite pairs (couple). Badminton is first played around mid of 18th century in Europe. In the starting year, it is not a very popular sport and just played occasionally.
But as days passed, it was spread outside Europe, especially in Asian countries. Different players of different countries played against each other and thus created a contest to popularize sports worldwide.
The All England Badminton Championship was organized in England, which generated a great audience and tough competition among the players. It is the first badminton championship organized at any level.
All England Open Badminton Championship, or All England, is one of the old and prestigious tournaments. It is played annually. The first All England Badminton Championship was organized in 1898 at Guilford. Then it was organized on 4th April 1899 with three categories (Men's Double, Women Double, and Mixed Double).
First, three tournaments called "The Open English Championship" changed to All England Badminton Championship. After a few years, The tournament also included men's singles and Women's single.
The tournament was not played twice for a short period. First, the game was halted between the first world war (1914 to 1919), and secondly, it was disturbed during the second world war (1940 to 1946). Rest it is played regularly.
All England Badminton is like Wimbledon Tournament
All England Badminton Championship is the major badminton, just like the Wimbledon Tournament of Tennis or a FIFA World Cup.
All the world's top players participated in this tournament, which created a great competition and generated many audiences worldwide. The tournament was telecast live all over the world on different TV Channels. TV viewership is also very high, which shows the popularity of this sport.
The player who won this will be treated as one of the top badminton at present and can be ranked as no. 1 in the world badminton by the International Badminton Federation.
If we talk about countries, presently it is mainly dominated by the Chinese Players. Chinese players are generally won this championship regularly, which is being followed by Japan, Korea, and old rival England. There are also some other countries where this sport developed very fast, like India. Many Indian players are now seeded top.
Badminton Asia Championships
The badminton Asia Championships is an annual badminton tournament organized by the Badminton Asia Confederation, aiming to recognize and honor the best badminton talent in Asia. This article gives you a complete lowdown on the tournament.
This tournament started in 1962 as the Asian Badminton Championships, with the first edition being held in the Malaysian capital, Kuala Lumpur. It was only in 2007 that the tournament started being called by its present name, viz. Badminton Asia Championships.
Initially, the tournament was held once every three or four years. Still, since 1991, it has become an annual affair, especially considering many badminton players that regularly emerge from the Asian region.
Till 1993, the tournament had both team and individual competitions, but since 1994, the team competitions have been disbanded, to have only five kinds of games – men's and women's singles, men's and women's doubles, and mixed doubles.
Malaysia has been the most frequent host of the tournament, hosting it as many as ten times since inception. Other frequent hosts of the tournament include Indonesia, the Philippines, India, China, Thailand, and South Korea.
China Dominated Badminton Asia Championships
As far as success at the tournament goes, China has definitely dominated, particularly over the last decade. South Korean and Indonesian players have also been witnessed to have performed brilliantly at the tournament.
Somewhat surprisingly, even after having hosted the tournament as many as four times, India has met with reasonably limited success in the badminton Asia Championships.
Now to look at some of the badminton Asia Championships winners.
Let's start with the first time the tournament became an annual event, i.e., in 1991. Rashid Sidek won the Men's singles, while Yuliani Santoso won the women's singles.
South Korea took top honors in all the doubles titles, with the men's doubles being won by Park Joo-bong and Kim Moon-soo while Hwang Hye-young and Yong Chung-so won the women's doubles. Park Joo-bong again won in the mixed doubles, along with his female counterpart, Chung Myeong-hee.
In the 2009 edition of the tournament, the tournament was held in Suwon in South Korea. The men's singles were won by Bao Chunlai of China against his fellow countryman, Chel Long, in a thrilling encounter, which the latter won 16-21 21-10 21-16.
The women's singles title was won by Zhu Lin, also of China. The men's doubles title winners were Markis Kido and Hendra Setiawan of Indonesia, while the women's doubles title was won by Ma Jin and Wang Xiaoli, again of China. The mixed doubles title was won by Lee Yong-Dae and Lee Hyo-Jung of South Korea.
With all the thrilling action at the Badminton Asia Championships, this is one tournament you surely don't want to miss!