Here's a useful little Badminton Tips video that teaches you exactly how to wrap new grip tape to your badminton racquet!
Having the right grip tape wrapped to your badminton racquet is essential to your badminton game for many reasons:
It ensures the racquet feels right to you, giving you just the right sensation when it's in your hand
It means the racquet is less likely to slip out of your hand during a match.
Makes sure you don't get calluses or other irritations to the hand which could affect your ability to play
The right color ensures you're looking like a professional badminton player out on the court! Style is always important!
Feel free to share this badminton tips video with fellow players who might be struggling with their own grip tape wrapping – sometimes it's not as easy as it looks!
Wrap a Badminton Racket with FeltTac Grip
You can actually found a lot of people on the Internet teaching people how to wrap a badminton racket with the towel grip. Some are teaching with the use of towel grip. But for me, I prefer using a FeltTac grip.
The reason why I prefer FeltTac grip is that if you use a towel grip with double-sided tape, the time you want to replace your grip and when you tear off your existing grip, it will retain the residual adhesive on the grip of your racket.
This will not happen to FeltTac grip where if you tear it off, the grip of the racket will remain to be very clean. Like my racket that I have been used it for more than 2 years, when I replace a new FeltTac grip with it and I tear off the existing one, the grip of my racket remains very clean without any residual adhesive.
When choosing a FeltTac grip, my favorite brand is going to Yonex.
This is because the Yonex grip tends to be longer than other brands. It features an adhesive layer of scotch tape on its surface, so you can tear off this scotch tape in advance.
In the beginning, when you start to tie the grip, you have to go to the bottom of the grip. The back of the grip is an octagonal shape. You need to start with either the upper or lower plane, which is actually the two planes of the racket that are the widest surfaces of the grip.
When you are on this plane, you can align in the right position to make it completely flat.
You need to leave about 0.1-0.2cm longer for the FeltTac grip to be over than the grip. The reason for this is because when you tighten it later, the FeltTac grip will shrink inward, and it will just fit well with your grip.
Basically, the FeltTac grip from Yonex can just let you perform your gripping task quite easily. I don't mean that I recommend it very much. All I can say is that since I have used this brand, I just feel totally comfortable with it.
When start to FeltTacll the FeltTac grip from where you tie it, you need to yield a little bit of strength. When you FeltTacll and tie up the grip for few laps, you will find the FeltTac grip will slowly shrink inward.
You just need to make sure that you do everything good for your first layer. One thing that you need to beware of is that Yonex FeltTac grip tends to be available relatively long, therefore, you need to wrap for 2 or 3 layers for your first lap.
Then you can use a two-and-a-half-layer method for wrapping. When tying up the grip, you can slowly FeltTacll down the FeltTac grip. It will come to the cross-sectional plane.
The cross-section is the same. When you slowly FeltTacll down, the creases or indentations will gradually show. You will need to slowly align with this indentation.
Yield a little bit of strength on it. And just repeat the process to wrap the grip. Just make sure that it is always aligned and close to the front part when you wrap.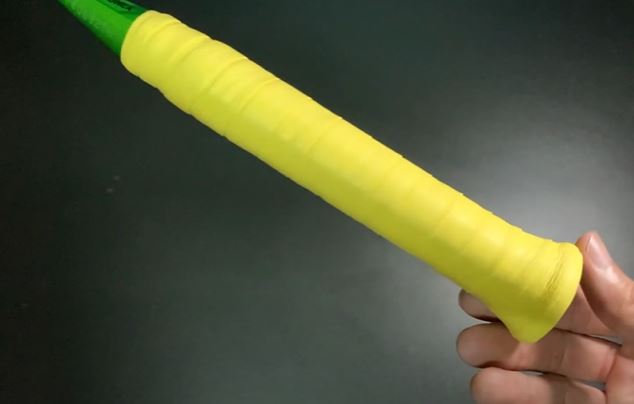 Some badminton players prefer to use rackets with uneven grip. If you are having a better feel by gripping your racket with an uneven grip, then you can wrap with few more laps, and you will be able to get the uneven feel. But you have to take note by not wrap for too many laps until your FeltTac grip not enough to wrap the whole grip for your racket.
For me, I prefer to use flat ones, so I won't wrap for any additional lap for my grip.
When your wrap your grip and it is now almost come to the tip of your racket, and you found you still have quite a lengthy FeltTac grip remain, you no need to cut it off because you just need to spare for the top spot.
Some doubles players may tie it higher, so they may wrap the FeltTac grip to the shaft. For me, I would just love to wrap the FeltTac grip when it has completely covered the grip.
When coming to the end of the FeltTac grip, it has a piece of double-sided tape where you can tear it off now. After tearing it off, you just have to stick this snugly on top of the grip.
Basically, you don't need to wrap another layer. It has a sticker similar to a towel grip. You don't need to wrap it because it won't fall off at all.
I have tied it hundreds of times, and never have any FeltTac grip fall off. And this kind of wrapping method is just perfect.
Read also: