Butterfly Tenergy is becoming more and more expensive through the years, forcing some players to search for other rubbers that have equivalent performance. My personal opinion is that the Tenergy is a bit overrated, especially for beginners who don't actually know to take full advantage of a rubber's attributes.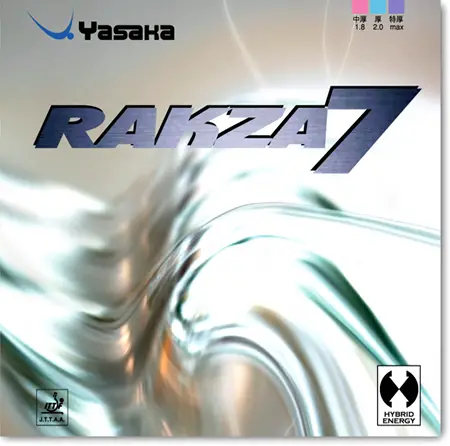 In this review, I will highlight the features of Rakza 7, which are cheaper (even 50 % in some e-shops), pointing out the similarities with Tenergy 05. Please note that the comparison is also valid for the soft version of both rubbers (Yasaka Rakza 7 soft – Tenergy 05 FX).
First of all, one of the special characteristics of this rubber is that Yasaka uses a high percentage of natural gum for the top sheet (most commercial rubbers use synthetic gum, which is of low quality), thus making it more durable and elastic. This is a feature you rarely find among commercial tensor rubbers.
Available of Protective Film
The Yasaka Rakza 7 rubber packaging is very textured, and it gives people a sense of eagerness at first glance! It is also similar to the texture of the other Japanese brands, which is refreshing and delicate.
It's even more amazing when I unpack the package. A piece of Yasaka protective film is attached with the rubber. If you look at other cake sponge rubbers, they will rarely give you the protective film.
Their reason is straightforward because the surface glue life of the new cake sponge has been 2-3 times longer than that of the past German rubber, so the protective film is not required.
But I have always felt that any rubber with protective film for protection can definitely increase its service life.
Hardness
I have conducted a preliminary hardness test. The sponge of this rubber is very firm, and the structure of the sponge feels very dense, which is a bit different from the loose and elastic feeling of ordinary cake sponges.
From visual inspection, the bubble density of the Yasaka Rakza 7 sponge is smaller than that of ordinary cake sponges, and the density is relatively fine. This difference will give this piece of rubber more energy.
When I took a look at the properties of the rubber surface, I found that Yasaka Rakza 7 has soft rubber properties. You can imagine that this is the flexibility brought by natural rubber.
Stickiness
The stickiness of the rubber surface is also quite obvious. So you can also imagine Yasaka Rakza 7 uses the properties of natural rubber to increase the rotation and then uses the high elasticity of the powerful sponge to achieve the super effect of rotation and speed.
Overall Feeling
The feedback you get in both rubbers is almost identical. Tenergy 05 is definitely more elastic, thus more spinny. Rakza 7 is a bit more bouncy with a higher arc on your loops (an excellent choice for a starter BH rubber) and with a less accurate short game, but this will not be a problem once you get the hang of it.
Serving-Receiving
I couldn't actually observe a visible difference here. I could perform all the types of serves/receives with the same motion. No adjustments are needed at all. Tenergy 05, as I mentioned before, is 10-20% more spinny. Control and placement are identical.
Looping
Looping with the Rakza, especially from the BH side, is safer. It is absolutely perfect for beginners. Deep high arc loops with small differences in spin and speed compared to the mighty Tenergy.
Short Play – Flicking
In this area Tenergy outplays Rakza. Rakza is a bit bouncy but not too much. Delicate players with good touch will not face a problem. Short pushes off the bounce are difficult to execute if you want the same result with Tenergy.
Flicking though is very good. Flat hits provide an extra kick to your stroke compared to the T05—the optimal choice for backhand sidespin flickers/loopers.
Mid-Distance and Far Back From Table
As long as you control the ball, basically, 90% of the ball can be directly looped back, which is the same even you play in mid-distance or far back from the table.
I like to loop with arc spin ball when playing mid and long-distance. But I personally think that Yasak Rakza 7 is not very suitable to play the arc spin ball. Because the ball that falls far from the table may not give an oppressive feeling to the opponent, and the speed is not so fast.
Using this rubber, I will yield a little more waist and wrist strength to drive the ball. With such concentrated force to deal with the ball from the far table, the effect is amazing.
The arc is low and flat, and at the same time, the speed is fast, with a lot of spin generated. This allows you to play far back from the table step back with continuous attacks.
Speed and Spin
I think it is a rubber that is inseparable from speed and spin because generally, rubber that can offer you fast speed will give you less spin, while rubber that can offer you a lot of spins will give you slower speed.
But the unique formula of Yasaka Rakza 7 adjusts the spin and speed to an exact state so that each of your balls can have both spin and speed simultaneously.
This is what makes me feel so special about this rubber. Maybe some people think I'm too exaggerated when I say this, but it is what I feel anyway.
I think if I use another way to describe it, maybe everyone will be more acceptable! In terms of speed, it is not as fast as Tenergy 05, but the spin is stronger than Tenergy 05.
In terms of spin, it is not as strong as the Haif Blue Whale, but the speed is faster than the Haifu Whale rubber. Of course, we can't deny that Tenergy 05 and Haifu Whale are unique and can support different playing tactics.
Final Word
Overall, I think the Yasaka Rakza 7 is a solid and cheap choice for a BH rubber. . Remember that FH rubbers wear out faster (FH side rubbers are used far more often in serving, receiving, and looping).
If you can't afford to buy expensive rubber such as Butterfly Tenergy 05 that keeps on increasing the price, then the Yasaka Rakza 7 is definitely the rubber that you can consider buying as it can offer you almost similar features can get with Tenergy 05.
In general, I believe that Yasaka Rakza 7 is totally worth the money. It lasts long and offers you an approximately 80% performance of the Tenergy 05 in all strokes.