The strings play a vital role in badminton. After all, they are the link between the shuttle and the badminton racket. Strings are probably the most important factor. The strings are really not that important to you when you first start, and the beginners' racquets usually come with factory-fitted strings. As you are learning new skills, this is probably just fine.
However, as you progress, the strings begin to play a more important role because they affect how you play and how the badminton rackets feel.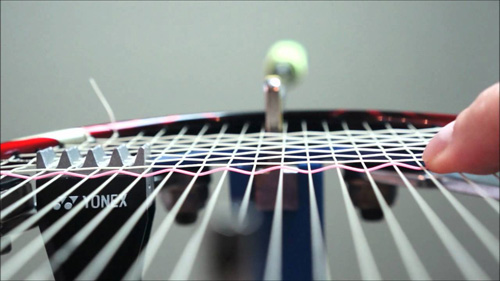 Low Tension of Racket String
Factory fitted strings have low tension, mainly because the manufacturers do not want you breaking them, and they certainly do not want you breaking the racket. The low tension is to protect the racket frame. At low tension, the frame is not under much stress and so is less likely to break.
Low tension strings can help you generate more power because they produce a slingshot effect. The shuttle will flex the strings more on impact and then push back to release the shuttle. The problem with this is that there is less control, mainly because the strings will move on impact, so you do not have a solid hitting base.
As you progress, you will get to the point where you need more control over your shots. When this happens, you will think about re-stringing your badminton racket, and no doubt think about tension. It is very important to take things slowly at first.
Things You Need to Know Before Upping String Tension
There is a misconception among badminton players to increase the tension because that's what the professionals play with. There are a few things to consider before you start upping the string tension.
The first is that at higher tension, the strings are more likely to break because they are under more strain.
The second is that the frame is more likely to break because it is also under more strain.
The third point is that to generate the power. It would be best if you were capable of making these strings flex. This means you need a sound technique and a fast swing speed.
If you are a beginner or an intermediate player, your technique may not be good enough to get the most out of higher tensions. Another factor is that the sweet spot is smaller at high tension, so if you do not hit the shuttlecock in the middle of the racket, it will not travel very far, and you may even break the strings as well.
If your technique is good enough, should you think about increasing the string tension in your badminton racket? I would suggest increasing by 2lb at first. So if your original tension was 20lbs, which most factories fitted strings are, then go to 22lbs, to begin with, and see how this affects how the racket feels for you.
You find the shuttle is more difficult to hit to the back from baseline to baseline due to the decreased sweet spot, but you should soon be able to adjust. You should find that you have a little more control over your shots, and power is nothing without control.
There is a trade-off here between power and control. There is no set rule at all because it all comes down to you. Some players can generate much power at very high tensions because they have a fast swing speed. Others will find it virtually impossible to get the same power because their swing speed is not fast enough.
You have to experiment, find the right tension for your own game, and find the balance between power and control. Ignore what anybody else does. Just concentrate on your own game and make sure you give yourself the best possible advantage to get the most out of your badminton racket.
How to String a Badminton Racket
Whether you are a pro or a novice, knowing how to string a badminton racket is an essential skill of the sport. Read through this simple guide to learn the proper steps.
First: Buy your equipment
Purchase a stringing machine that matches your budget. Plan to spend $500 to $1000 for a quality machine. Make sure you buy a machine with clamps expressly made for badminton rackets. Closely follow the included instructions on how to operate the stringing machine.
Second: Choose the right kind of string
Select the badminton string that is most appropriate for your playing style. Different gauges or thicknesses are available. Thicker strings last longer, and thinner strings provide more feel but less durability.
Third: Draw out your racket's pattern
Look at your racket's current string pattern, and draw it on paper. If you use the wrong pattern when stringing your racket, the frame may break. Once you have copied the pattern, cut and remove the old string with a pair of clippers.
Fourth: Check your tension
Arrange and secure your badminton racket according to the stringing machine instructions. Calibrate the machine to the tension required for your racket. Consult your racket manufacturer for specific details. In general, tension ranges from 16 to 26 pounds.
Lower tension tends to provide more power, whereas higher tension allows more control. Follow the pattern of your racket and string accordingly, ending with a snug knot.
Fifth: Go to the experts
If you have any questions about stringing your racket, contact a certified racket stringer. The U.S. Racquet Stringers Association (USRSA) has a website with more information. A certified racket stringer also provides stringing lessons to willing participants.
Essential Badminton String To Win The Game
The correct badminton string for your racket is essential to winning games in this fun and competitive sport. There are two types of string to choose from – synthetic construction or natural gut material. Although it offers superior control and power, string made of the natural gut is more expensive and less durable.
It also offers an excellent feel and has less vibration when hitting shuttlecocks. The thicker the string, the more durability and control it provides. A thinner string has more zip and power, so choose badminton string based on the effects you wish to have.
Badminton Stringing Machines
As I am playing badminton quite often, the string of my rackets tends to break from time to time. Sometimes even the string does not break, but it has lost the tension that I want, and I need to send it to a sports outlet to have them fine tune for me.
Well, I have found that there are actually many hassles that I need to went through. I need to get charged by overpriced pro shops, which make a huge expense with getting my badminton rackets restrung. Besides, those shops are never open on my schedule, which is annoying when I need the string to restrung.
I could probably spend three or four hundred bucks on a decent stringing machine that would pay for itself in a year for what they charge.
Not to mention, things would get done on my timetable as I can have my own schedule to fix the thing. Of course, assuming I have the time to learn and then do the stringing when I need it.
I only need it every month or so, and if I get halfway decent at it, I should be able to string a racket in under an hour.  I could probably do it while watching Netflix on TV.  I have found a few good resources and discussion forums that discuss how to do it and recommend a few good stringing machines.
I should really do it, and I will save myself a few bucks. I can also learn something new that adds to my surviving skills.  I could probably even make some money.  I could charge half the price of what the pros do to anyone who needs their rackets to restring, and I can still make money while watching TV.  Isn't that is a cool thing for me to do?
Investing in high-quality badminton stringing machines
Ha, that's one brand that been pop out from my mind when I think of a stringing machine. All badminton players can save time and money by investing in one of the high-quality badminton stringing machines available today. Precision tension features enable accuracy to be within half a pound and virtually zero racket distortion.
You can choose a popular Klippermate model of badminton stringing machine that is made in the USA. What's good about this machine is that along with a lifetime guarantee, you can get plenty of extras that include a tool kit, string, grips, and step-by-step instructions.
Look for ease-of-use in construction features, such as adjustable clamps and compatibility with any racket model. If you are serious about the sport, it only makes sense to invest in the best badminton equipment and stringing machines for long-lasting durability.
With this, you are getting less hassle, and you can always focus on playing badminton and have fun with it.