Swimming is an excellent exercise, but wearing glasses or contact lenses can make it challenging. Swimmers with vision problems can take part in the sport without worrying about their vision because to the clear vision that prescription goggles for swimming provide.
Swimming goggles with prescription lenses are made to treat nearsightedness, farsightedness, and astigmatism. They also shield the skin from chlorine and UV radiation damage. With prescription goggles, swimmers can see perfectly underwater and enjoy the sport without worrying about their vision.
It can be difficult to choose the best swimming prescription goggles. It might be challenging to determine which lenses, frames, and designs are appropriate for your needs given the wide variety available.
We will discuss the many lens options and how to select a pair that is both comfortable and gives the best vision underwater. You may choose your prescription swimming goggles with confidence if you are aware of these considerations. If you are looking for one now, I'll give my top five picks for prescription swimming goggles that you can consider of buying.
Different Types of Lenses
When it comes to prescription goggles for swimming, the most important factor to consider is the type of lens. Some popular options include:
Single-vision lenses: These are the most common type of prescription lens. They have a single power throughout the lens, which corrects for either nearsightedness or farsightedness.
Progressive lenses: These are similar to single-vision lenses, but they gradually change in power from the top to the bottom of the lens. This allows for a more natural transition between different distances, making them a good choice for swimmers who need both distance and reading correction.
Prescription polarized lenses: These lenses reduce glare from the water and can help to improve visibility. They can be a good choice for swimmers who are sensitive to glare or for those who swim in bright, sunny conditions.
Mirror-coated lenses: These lenses have a reflective coating on the outside surface, which can help to reduce glare and improve visibility. They also offer UV protection.
Photochromic lenses: Photochromic lens changes color depending on the intensity of the light. They are convenient for swimming as they can adapt to different light conditions such as bright sunlight and indoor swimming.
Other than lenses, some other considerations include:
Durability: Look for goggles with a sturdy frame that can withstand the wear and tear of regular swimming.
Comfort: Make sure the goggles fit comfortably and securely on your face. Some goggles have a more customizable fit, while others have a more standard fit.
Materials: There are a variety of different materials that make up the goggles. Some popular materials are plastic, silicone, and TPR. Each material has its own pros and cons, you should know them beforehand so that you can get the one that best suits you.
Design: There are many different colors and designs for goggles. You can choose one that is of your favorite color and design that is well match your style.
Strap: Look for goggles with a strap that is made of a soft and flexible material that will form a pleasant seal around your eyes and ensure that the goggles stay firmly in place while you are swimming. Straps are essential for ensuring that goggles do not fall off while you are in the water.
Flexibility: Flexibility is provided by some goggles, which enable the wearer to switch lenses according to the intensity of the light or even clip on and clip off lenses at will.
Here is the list of 5 Best Prescription Goggles for Swimming:
1. Speedo Vanquisher Prescription Goggles
Speedo Vanquisher prescription goggles are designed to provide a comfortable and secure fit for swimmers who require corrective lenses. The goggles have a one-of-a-kind design that allows them to be adjusted to fit any face shape while maintaining an optimal field of vision.
The lenses are made of a special material that resists fogging and offers UV protection. Speedo Vanquisher prescription goggles provide swimmers with improved vision and comfort while swimming thanks to these features.
The advantages of Speedo Vanquisher prescription goggles include improved vision, comfort, and UV protection. The adjustable design ensures that the goggles will fit securely on any face shape, while the anti-fog lenses provide clear visibility in all conditions.
Furthermore, UV protection shields your eyes from harmful rays when swimming outside. However, there are some drawbacks to these goggles as well; they can be more expensive than standard swim goggles and may not be suitable for those with severe prescriptions.
Pros:
The straps are easy to adjust.
Fit properly without leaking.
Very comfortable to wear.
Cons:
The nose bridge can cause pain if not put on properly.
The straps may not easy to adjust.
2. UTOBest Swimming Goggles
The polarized lenses of these goggles are offered in RX strengths from -1.5 to -6. The interior of the goggles includes the customary anti-fog coating, but you also get the added benefit of better durability thanks to the soft silicone construction. Just be careful not to rub the anti-fog coating off the inside of the lens with your fingers.
The prescription goggles from UTOBest are a stylish pair that can be used by both adults and kids. It can provide you with excellent uv protection.
If you intend to buy UTOBest goggles, you shouldn't buy the one that matches your vision exactly, but you should buy one that is having lesser vision instead. How to say so? For example, if your vision is -1.75, you should get -1.50 as compared to contacts and glasses, swimming goggles are stronger and offer a different view.
When you get them and put them on, you will notice that they are secure, that they are tinted like sunglasses, and that you will feel comfortable wearing them while swimming. You will have a very clear view of them both in and out of the water.
Pros:
Keep water out very well.
Very comfortable to wear.
Maximum water seal suction.
Can hold up hold fog and leak very well.
Offer at quite an affordable price.
Cons:
It was also very difficult to get the nose bridge in correctly and if push too hard it may break.
The ship adjusted can be a bit small and it is quite tight even stretching at the maximum level on the strap. It needs to be loosened a bit more.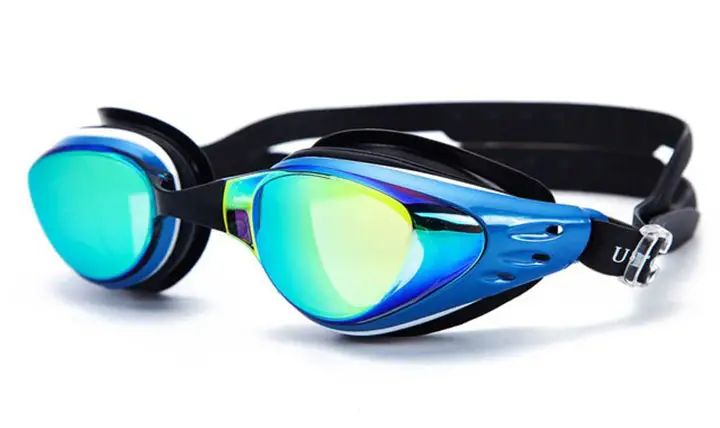 3. Sporti Antifog S2 Optical Goggles
The Sporti S2 goggles are having diopter strengths ranging from -1.5 to -8.0. They come with three different-sized interchangeable nose pieces. Besides providing the clear and smoked version, Sporti also provides you with a mirrored style. This is excellent for swimmers who swim outside and need optical correction.
Additionally, they provide UV protection and anti-fog materials. You will have good sun protection when wearing these goggles to swim. To avoid wiping off the anti-fog coating, just be careful not to rub the inside of the goggles.
The interchangeable nosepieces are quick to change out and as long as you have the right one in, it hasn't caused soreness/discomfort after about an hour of wearing them.
If you adjust the interchangeable nose pieces properly, you can wear them for long hours without irritation or discomfort.
Pros:
Easy to fit and adjust.
The anti-fog feature is good.
Offer you a very clear view underwater.
Cons:
They are not polarised but offer a smoked option.
Limited control over the span of the nose bridge.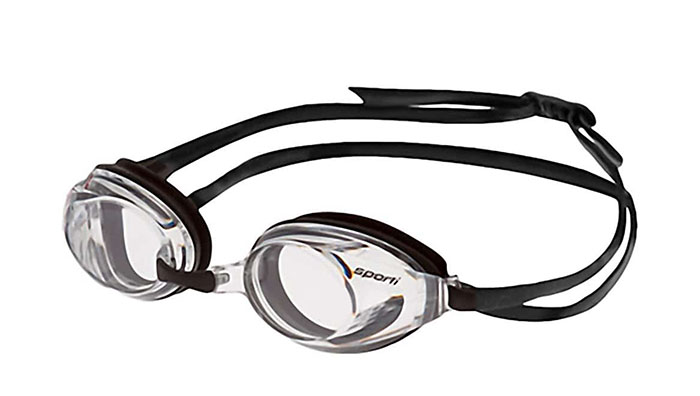 4. TYR Blackhawk Racing Negative Prescription Goggles
The TYR Blackhawk Racing Negative Prescription Goggle is a good option for competitive swimmers and triathletes who are looking for a pair of goggles that provide a clear view of the surrounding area while swimming, as well as goggles that offer anti-fog, UV protection, and adjustability of the nose bridge. These features are all found on the TYR Blackhawk Racing Negative Prescription Goggle. They feature a large peripheral range and lenses with the appropriate diopters of correction (-1.5 through -8.0)
These goggles are ideal pairs for swimmers who frequently participate in competitive swimming and need comfortable goggles to put on. TYR Blackhawk has a lot of benefits that make them an excellent choice for swimming in competitive settings.
One of the advantages of the goggles is the lenses of the goggles are protected by an anti-fog coating. Having this feature in place helps to ensure that the goggles do not fog up while wearing them for swimming. They also provide UV protection that can help to give you good protection of your eyes against the damaging rays of the sun.
The goggles have a wide field of vision, which enables them to have excellent views around them when they are swimming. The nose bridge is adjustable which is a great feature that most swimmers are looking for. Such features make it possible for a customized fit for the wearer's face.
They also come with a set of lenses that can be switched out. This will offer you the ability to adapt the lens to a variety of various lighting conditions.
TYR Blackhawk Racing Negative Prescription Goggles are built to last since they are made of long-lasting materials that can endure the abrasions and scrapes that come with regular swimming. Besides, they have a polished and expert appearance, and the brand's emblem is prominently displayed on the side of the product.
Pros:
They come with different size nose bridges.
Easy to adjust and very comfortable to wear.
Good quality.
Cons:
May not be as comfortable to wear compared to UTOBest Swimming Goggles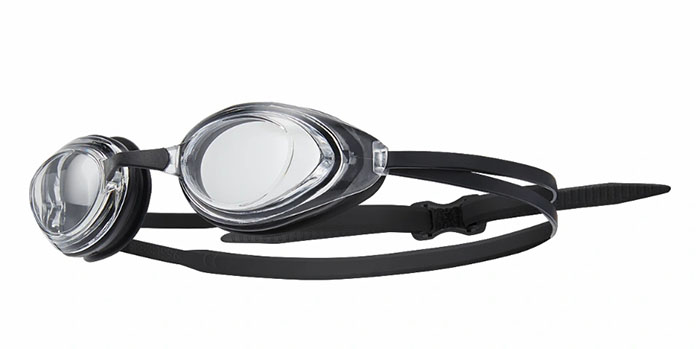 5. Zionor G7 Optical Swimming Goggles
The Zionor G7 Optical swimming goggles are suitable for swimmers who need corrective lenses but don't want to wear contact lenses or regular glasses while swimming. They are designed to be worn over your prescription glasses and provide good and clear vision for the swimmer with adjustable nose bridges and straps.
They are a pair of prescription swimming goggles designed for swimmers who need corrective lenses. The goggles are designed to be worn over your prescription glasses and provide an alternative to contact lenses. They feature:
Wide view lens: The wide-angle lens on the goggles offers an excellent picture of the surroundings.
Anti-fog and UV protection: To assist shield your eyes from the sun's damaging rays, the goggles contain an anti-fog coating.
Strong construction: The goggles are composed of strong materials that can endure the abuse that routine swimming can bring about.
Adjustable strap: The goggles contain an adjustable strap that lets you alter how snugly they fit your head.
Comfortable design: They are made to be pleasant to wear and come with a gasket that adapts to the curve of your face to ensure a secure fit.
Nose bridge interchangeability: The goggles have removable nose bridges that you may swap out to customize the fit to your preferences and face shape.
Affordability: For swimmers who require corrective glasses, they are a reasonable and cost-effective solution.
Pros:
Fit well and is very comfortable to wear.
Provide very good protection without having water leak in.
Anti-fog surfaces provide a very clean and clear view.
Cons:
Didn't have frame adjustment options.
Not suitable for kids as the strap may be loosened no matter how tight you adjust it.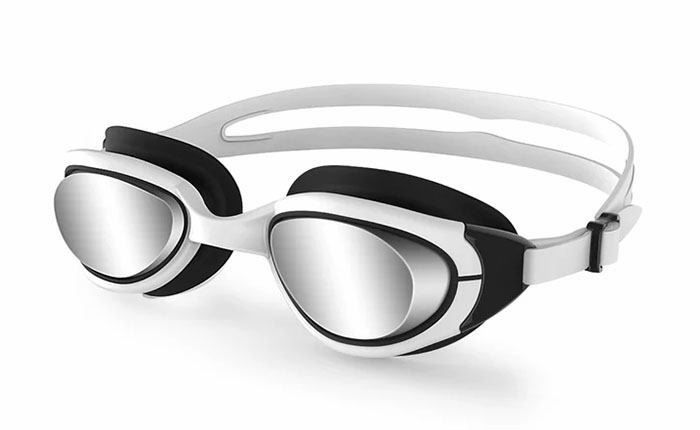 Final Thought
When choosing a pair of prescription goggles, it's also important to consider the fit and comfort of the goggles. Some goggles have a more customizable fit, while others have a more standard fit. It's also important to consider the type of swimming you'll be doing and the conditions in which you'll be swimming.
It's important to note that for prescription goggles there are some companies that offer custom-made prescription goggles based on the customer's own prescriptions. They are also more expensive compared to standard prescription goggles. It's also better to consult with an optometrist before purchasing any goggles.
Please keep in mind that this is general advice and it's always best to consult with an optometrist or eye doctor for personalized recommendations.
Read also: