Beginner's Guide
Table tennis is a highly competitive sport that requires plenty of practice and the right ping pong paddle to excel. This is the reason most of the expert players recommend beginners to spend time choosing their rackets.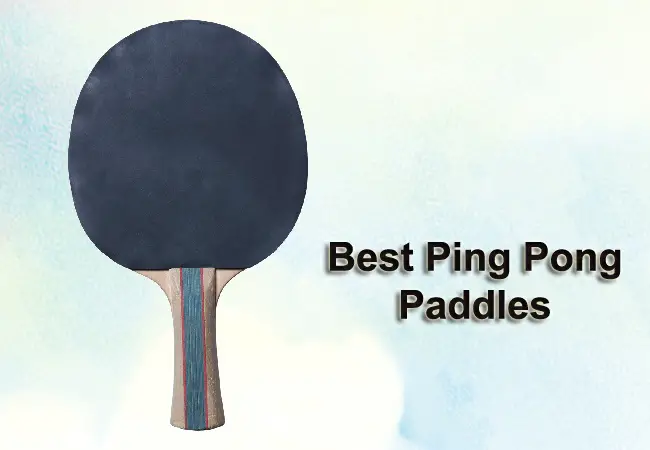 Parts of a Ping Pong Paddle
A racket has two general parts, the blade, the wooden portion, and the rubbers, which cover both sides of the blade.
Blade
Table tennis rules require rackets to be at least 85% natural wood. The remaining percentage is often made of composite materials like carbon fiber which strengthens the paddle and provides a large sweet spot or aralyte, which features a softer feel compared to carbon, and it helps in dampening vibration. Beginners don't need to buy one with carbon layers just yet as they still need to develop their skills and playing style.
Rubber
Rubbers can be a smooth or reverse type or pimpled or pips. Start with a quality smooth rubber on both sides because these allow you to develop various play styles before focusing on a specific one for professional play. Pimples or short pips are good only for limited strokes and spins and are ideal for more specialized playing styles.
Sponge
Between the rubbers and the blade is a layer of sponge measuring anywhere from 1.2 mm to 2.5 mm thick. A thin sponge layer gives you better control and is best suited for beginners developing their game, while a thicker sponge gives less control but faster speeds suitable for more seasoned players.
Price
While investing in the best quality you can afford may be more cost-effective, you don't have to purchase the most expensive ping pong paddles to play well. But if you're serious about developing your skills and playing style, even as a beginner, choosing a custom bat over a pre-made one is a must.
A custom-made paddle may cost more than a pre-made paddle, but it has the added advantage of allowing you to replace rubbers when worn out or damaged or upgrade its parts as your skills develop.
After buying your blade, rubbers, and sponge, you must put these together using special glue. Manufacturers sometimes offer assembly as a service to their clients; otherwise, getting it done by someone with experience will save you from costly mistakes.
Buying good covers for table tennis rackets also protects them from sunlight, liquid spills, and other harsh conditions so they last longer.
Expert Guide
Whether you're playing for recreation or competitive sports, knowing what ping pong paddles to buy can make or break your game.
Table tennis continues to be the top racket sport worldwide because it provides hours of fun and a complete physical workout and challenges your skills.
Because much of your skills and strategy depend on your racket, deciding whether to buy a pre-made or custom paddle or its individual parts requires some careful thought.
Here are some expert tips for choosing the correct ping pong paddles:
Selecting rubber
Rubbers cover both sides of the paddle surface or blades and can be of various types:
Smooth inverted and sticky: These are the most preferred rubbers because they produce high speeds, powerful strokes, and forceful spins for offensive plays.
Pips or pimpled rubber surfaces give faster and more direct shots and reverse the opponent's spin for great defensive playing.
Anti-spin rubber: This is ideally used for defensive playing to reverse the opponent's spins. However, most competitive players use a combination of anti-spin and long pips for better game control.
Choosing the blade
Blades must be at least 85% natural wood. The rest of the blade can be made of composite materials like glass or carbon fiber. Carbon blades strengthen the blade and provide a larger sweet spot.
But beginners and recreational players may no longer feel confused when choosing the right blades or materials as manufacturers now provide speed ratings to guide buyers in their selection. As a rule of thumb, a slower blade gives better control, while a faster blade is good for offensive shots but has little control.
Over 70: this is a fast blade suitable for offensive players but offers less control.
50–70: is an all-around range that beginners and recreational players may also use.
Slower blades are for defensive plays because these provide better control.
Choosing the sponge
In between the blade and rubber is a sponge layer between 1.2 mm to 2.5 mm thick. A thin sponge gives you better control, while a thick one produces more speed but little control.
Recreational players can still buy pre-made ping pong paddles for their convenience as these are increasingly manufactured using high-quality materials. But if you are thinking of improving your game, investing in a custom-made racket is more cost-effective in the long run because it is easier to replace rubbers as your skills develop.
Questions To Ask When Looking For The Best Ping Pong Paddles
A ping pong paddle can be a real investment in your game, with the best ping pong paddles costing over $100. However, stop and ask yourself a few questions before putting that much money down on just any old paddle.
What is your level of play?
If you're just starting or consider yourself a hobbyist, the best ping pong paddles for you will be less expensive—if you go with a reputable company, you can get good quality for under $50. These paddles will come preassembled.
If you're a professional or a tournament player, you'll naturally need much more from your paddle. Most professional players buy the blade (wooden part of the paddle) and the rubber separately and assemble the products themselves.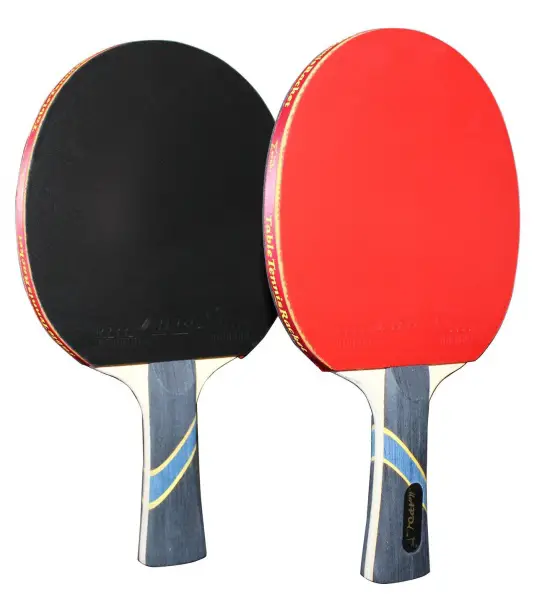 Some companies, like Butterfly, offer both recreational and professional lines of the best ping pong paddles.
Which Grip Do You Use?
The shakehand grip—paddle held as if shaking hands—is the most popular grip today, and it is the ping pong grip that most table tennis paddles were designed to accommodate.
Some players, though, especially those from the far East, use the penhold grip. As the name suggests, the player grips the paddle handle as though it were a writing pen. Since penhold players are typically fast on their feet and avoid hitting backhands, sometimes you may cover only one side of this paddle with rubber.
Unless you have been trained by an Eastern coach who uses the penhold grip, the best ping pong paddles for you are probably the ones that accommodate shakehand grips.
Are You Planning To Play In Tournaments?
If so, familiarize yourself with tournament rules for ping pong paddles. In general, there are no regulations about size or weight. Most tournament paddles are made for shakehand grips, and most are covered with rubber with the rough surface facing the wood and the smooth surface facing the outside. However, these are preferences, not rules.
Tournament paddles must have one red side and one black. There is also a rule that the rubber cannot touch anything but wood, so if your blade has a layer of carbon or arylate, make sure that it is a thin layer in the middle and that the rubber does not touch any part of it. Otherwise, you could be disqualified from tournament play.
The best ping pong paddles for tournament play are those purchased from websites of established table tennis dealers.
If your racket is not used in tournament play, all bets are off, and you can get any paddle that strikes your fancy.
Choosing the best ping pong paddles can be a real challenge, especially if you're fairly new to the game. The best thing to remember is that an amateur should spend no more than $50 on their equipment; that's plenty of money to get a more than adequate paddle for hours of fun play. However, a professional table tennis player will probably spend several hundred dollars to get the best ping pong paddles available and increase their chances of winning.
Recommended Ping Pong Paddles For You
Here are some paddles I would recommend for all players, ranging from entry-level, beginners, intermediate, and advanced players. Different providers cover the paddles, and you may do your diligence to get the right one for yourself.
Entry-level
1. JOOLA Winner
This is a leisure paddle from JOOLA. The special ergonomic grip design can let you immediately adapt to the hand.
The paddle comes with a smooth pips-in rubber over the sponge named "Compass." It is suitable for your kids to use when they first start to play ping pong.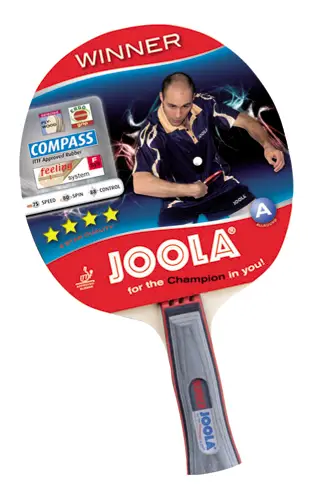 2. Butterfly Nakama S-5
This paddle featured inverted red and black Pan Asia rubbers. There is a flared design for the handle, which will offer players great grip. You can have good control with this paddle.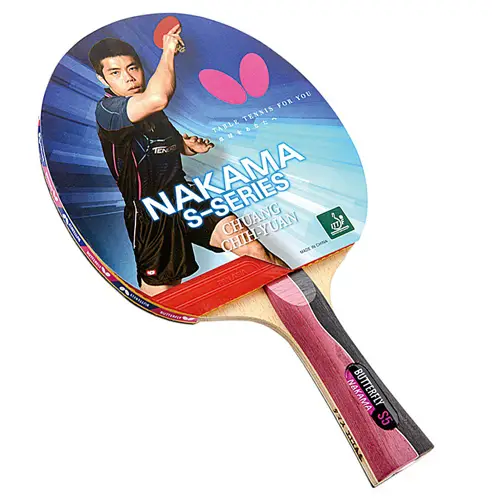 3. Killerspin JET 200
This is an entry-level paddle from the Killerspin JET series. The lowest one is the JET 100. But if you want to play the game for fun, it is good for you to get a slightly better paddle, JET 200.
There are 3 different rubber colors that you can choose from with this paddle. Other than the conventional red color, you can also choose a blue or green color.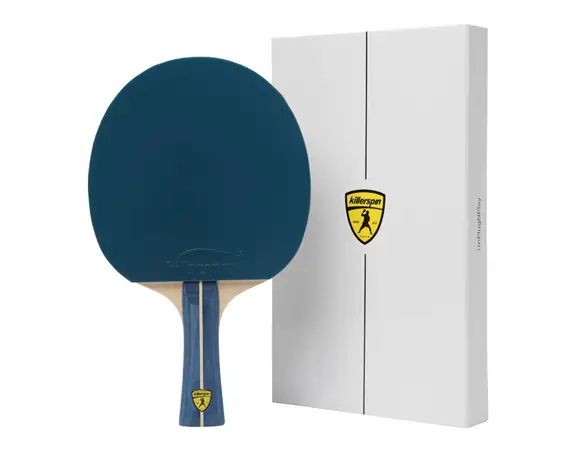 4. Donic Waldner 700
You can get decent speed and spin with this paddle. You can also have good control over it. The racket can be quite heavy with its balance system built with this paddle.
The flared handle design can provide you a good feeling when gripping the paddle.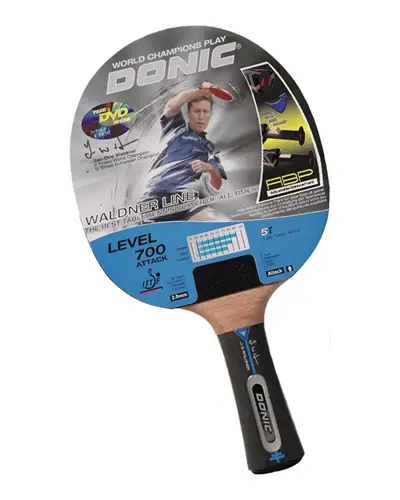 5. Yasaka Colt
The paddle has an exclusive design. You can have quite a good spin and control with this paddle.

Beginners
1. Killerspin JET 600
Killerspin is an American table tennis brand. The company is positioned in the recreational table tennis market. Most of their bats are labeled "paddles" to make the blade in tandem with their proposition to the U.S. basement market. The paddles are made of good quality, and the price can be higher compared to other brands.
This Killerspin Jet 600 is 6.1 x 10 inches, and the weight is 9.4 ounces. With this weight, some players love it, but some are not really used to it. Players who love it found that this racket's heaviness provides them good attacking, and it makes a good spin on the ball.
But for players who are not really a fan of it, the complaint is that it made their shots hit straight instead of curve one because it is heavier than most of the other rackets, which allows opponents to hit back and rebound very fast.

2. STIGA Evolution
This is a great pre-assembled ping pong paddle that can offer you the top control level. It is being produced and designed to help in improving players' overall stroke.
The STIGA Evolution is absolutely made with control in mind compared to the other STIGA paddles.

3. Palio Expert 2
Palio Expert 2 is one of the best ping pong paddles for beginners. If you have a kid who starts to practice ping pong skills, consider getting this bat as it can help develop your technique and stroke.
The paddle can offer you faster speed and more spin. With the price you paid for, you will find it is worth what you get.

4. DHS A4002
This is one of the most sought-after pre-made ping pong paddles that DHS is introducing. It is built with a 7-ply shakehand style.
The DHS A4002 isn't a very high-quality paddle but is much better than most pre-made paddles. You may check out to find more about this paddle.

5. JOOLA Spinforce 300
JOOLA Spinforce series has the 3 models of rackets specially designed to cater to different players. The 3 models are 300, 500, and 900.
The manufacturing quality is of the top grade for the paddles and is further incorporated with quality rubber specially designed to cater to all levels of players.
The overall construction of the Joola Spinforce 300 is really cool and nice. It is lightweight and is made out of wood and foam. Technically, it is constructed as a 5-ply blade, but you may only see 3 layers with your eyes.

Intermediate
1. STIGA Pro Carbon
This STIGA Pro Carbon is a top-quality paddle that features an ergonomic design that is perfect when you grip it with your hand. You can play ping pong for a long time, and you will not feel any discomfort with it.
It is a heavy handle blade but is lightweight. It can offer you great balance, and it is ideal for you to use for home play.

2. Butterfly 401
The Butterfly 401 shakehand racket is another quality racket that being introduced by Butterfly. It is assembled with extremely tacky Butterfly Yuki rubber on both sides. The rubber can offer players with high spin with its 2.1mm sponge layer. Nonetheless, the tackiness may wear down gradually. Since you get a cover that comes together with the racket when you buy it, it is good for you to protect it with a cover when it is not in use.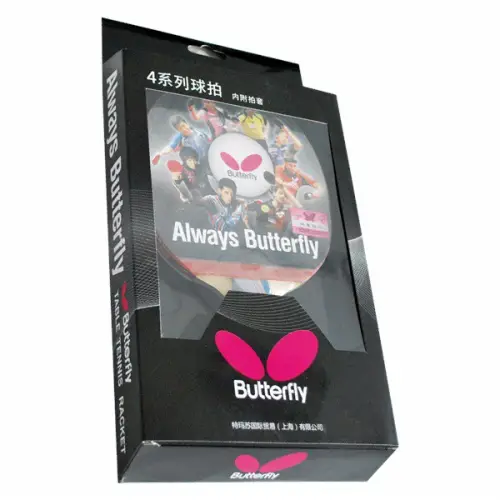 The blade is constructed with 5-ply wood, and it features a larger sweet spot. It is ideal for beginners where they can get it at a quite affordable price.
The drawback for you to get this racket is that ITTF does not approve it. Therefore, you can use it to play in tournaments. Also, the racket can be heavy where it carries a weight of approximately 180g.
Speed: 8.0
Control: 8.50
Spin: 8.0
If you are looking for this paddle, you can get it from Megaspin.

3. Killerspin JET 700
The racket is built with high-quality material. There are two Nitrx-4Z rubbers at both sides of the blade, and the thickness of the rubber is 2.0mm.
This Killerspin JET 700 racket is designed for club-level competitive players. It can be of the high price as a pre-made racket for some people, but you will get the speed and spin you want with the price you pay for.

4. JOOLA Spinforce 500
The Joola Spinforce 500 is an ITTF approved racket for tournament play. The racket can help any player to get more speed when playing ping pong.
The racket is constructed to help offensive players improve their attacks and optimize their spin. You can use the racket to defeat your opponent in any tournament if you master the racket well.

5. DHS Hurricane II
The DHS Hurricane II is a shakehand style table tennis racket. It is constructed with 5-Ply professional wood. It is ideal to be used for the family to play home games and also to play in competitions. When you purchase the racket, you will find it is wrapped nicely with great protection. Besides, it has come together with a case.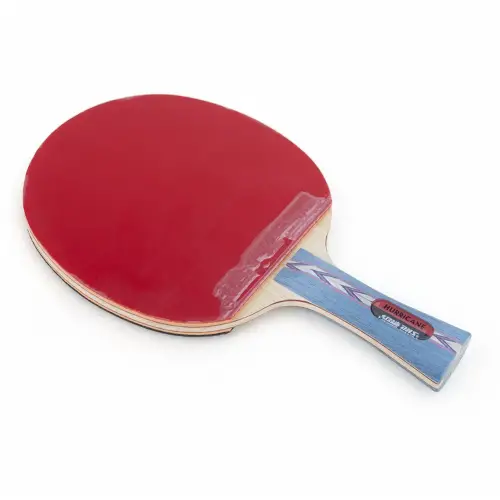 When you play with the racket, it can offer you great balance and allow you to have good control at the same time. When the ball comes to contact with the rubber surface, it seems to bounce right away.
The first time you feel the bounce of the ball on the DHS Hurricane II racket, you may have the feeling that the ball is broken. However, it is not as it is the control that the racket gives to you where it can be very tacky when touching the ball.
The blade is working well with the Chinese rubber coating. It features an oversized design, and its price is higher when some people may not be willing to pay for it. However, if you are going to tournaments often, you may consider getting this racket as it caters to more advanced players.

Advanced
1. Yasaka Mark V Carbon
It is a Swedish-made Yasaka table tennis blade with Sweden Classic. They construct the blade with 5-ply wood with 1 ply of carbon.
They equip this ping pong bat with 2 Yasaka Mark V rubbers for its forehand and backhand. The thickness of the sponge is 2.0mm for both rubbers.

2. Killerspin JET 800
This is a high-end pre-assembled racket that is specially made for intermediate to professional players. There are two Nitrx-4Z rubbers at both sides of the blade, and the thickness of the rubber is 2.0mm. The rubbers are of one side black and one side red. It is also ITTF approved.
The Killerspin JET 800 blade is constructed with 7-Ply with 5 layers of wood and 2 layers of carbon. The head dimension is measured at 6 x 6 1/8 inches.

3. JOOLA Spinforce 900
This is the most advanced level racket in the Spinforce series. The racket is constructed with 7-layered carbon plywood and JOOLA Infinity rubber. The rubber is made of a max soft sponge, making it possible for players to have good spin and control of the ball.
This racket is ideal for advanced players as it can offer them great speed, stability, and strength. It is well fitted for all aggressive offensive players.

4. Butterfly Balsa Carbo X5
This is the first Balsa blade that being released by Butterfly. It is lightweight and provides players with excellent touch.
The blade is quite thick as it has a thickness of 7mm. Also, the blade is quite stiff and soft. It can give you great control when playing on loop as the blade has excellent dwell.

Of course, if you are already an advanced player, you will want to get a professional quality custom-made blade and rubber instead of a pre-assembled one. Some many different blades and rubbers are catered for advanced and professional players.
It would help if you did your own due diligence to figure out the blade and rubber that best suits your playing style to have an excellent performance to play in the game of table tennis.