Arizona
Arizona skydiving is a unique experience, providing great views of well-known landmarks and some of the most beautiful scenery on the planet.
To use the well-worn marketing phrase, "What happens in Vegas, stays in Vegas." But there are exceptions to every rule, and Las Vegas skydiving may be one of the exceptions in this case. Because if you experience diving in the skies over the Nevada or Arizona deserts, you will want to tell everyone you know about this great experience.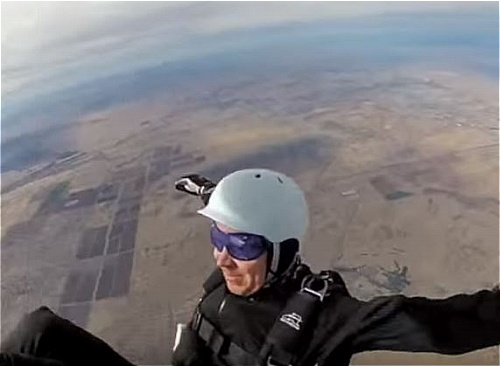 The simple explanation might be in the marketing material at Skydive Las Vegas, which states that customers free fall at 120 miles per hour, enjoying great views from above such landmarks as Hoover Dam, the Colorado River, and of course, the Las Vegas Strip.
Learn In Tandem
As with most top skydiving centers, those devoted to Arizona free falls offer tandem skydiving as a perfect way for newcomers to experience this breathtaking activity. With Tandem skydiving, the student or recreational customer is harnessed to a very experienced instructor who controls the dive from start to finish.
This allows the newcomer to enjoy the view and get the thrills of skydiving without the anxiety of being in control of the dive.
Prices vary with the training method and other factors, but skydiving near Las Vegas is affordable, usually in the $150 range. Check with some of the skydiving centers to get special prices, weekday rates, etc.
There are a few special options with skydiving that are of particular interest. Videos and photographs are available in several packages. Those who don't want to skydive can choose the airplane ride option at some centers ($50), then ride in the plane and "watch your friends and family jump out the door."
As with many Las Vegas activities, skydiving centers and schools are among the leaders in using the latest and best equipment. Many of these centers use tandem harness equipment available only in recent months for their tandem jumps.
Some centers exclusively use only the roomiest skydiving aircraft as well. It is a good bet that the newcomer and the experienced alike will be served by the best.
Skydiving Arizona
Proximity to this gorgeous desert state makes Las Vegas a prime hub for skydiving over the Nevada desert and above some of the magnificent scenery in Arizona. Whichever location you choose (why not choose both?), the Nevada and Arizona skydiving experience will be one that you will want to share with family and friends.
Illinois – Sky Is The Serene Place for Skydivers
Illinois is a scenic beauty often overlooked by many searching for the perfect vacation spot or spa resort. However, the truth of the matter is that Illinois reveals a far more obscure exquisiteness only to be recognized by those few who have experienced it for themselves.
Among the crowd of those that choose to abscond to Illinois, if only for a short while, is the group of participants of the extreme sport known as skydiving.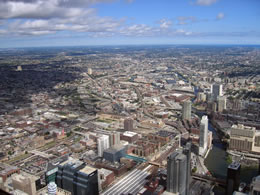 Over the years, several skydiving centers have emerged in Illinois:
Archway Skydiving Center
Chicagoland Skydiving Center
Greater St. Louis Parachute Club
Illinois Skydiving Center
Illinois Valley Parachute Club
Mid-America Sport Parachute Club
Parachutes Over Carmi
Quad City Skydiving Center, Inc.
Skydive Chicago
SEMO Skydiving Club
Rock River Valley Skydivers
The World Freefall Convention.
Of these, three have dominated the market.
Archway Skydiving Center
It is often described as a small drop zone with the perks of the big ones. It is one of the few facilities that offer tandem, AFF, and static line jumping in Illinois. Although it does not provide many commercial amenities, such as pools and bars, Archway focuses on perfection in simplicity.
Chicagoland Skydiving Center
The center also provides no commercial amenities, offers tandem and AFF jumping. The only possible shortcoming is the lack of static line jumping for those enthusiasts that enjoy that aspect of the sport. For the most part, Chicagoland is revered and respected as one of the top drop zones in Illinois.
Skydive Chicago
The center provides the exceptional amenities many have come to expect from a drop zone or any hotel, for that matter. With a pool, bar, and restaurant on the premises, it seems of second significance to note this facility offers only tandem and AFF jumping.
Although criticized by many, these additional perks are greatly enjoyed by guests and jumpers that choose to make Skydive Chicago their home, even if for a short time.
The serene plains of the Illinois grassland, the uninterrupted nature of scenic beauty, the stillness of the chaotic wildlife just beyond reach – Illinois ( http://www.illinois.gov )provides a serenity like no other. Perhaps it is man's nature to combine the contradictory.
With that in mind, many enthusiasts take to the sky to interrupt the tranquility of the Illinois scenery or possibly to partake in it at an unprecedented level – 10,000 feet above the ground.
Chicago, The Oasis for Skydiving Fans
Whether you live in the Chicago area or not, skydiving is an exciting way to spend the day; not only will you overcome fear, you will have a great time too.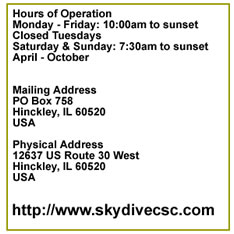 Chicago skydiving facilities afford the best in instruction, equipment, and jump sites to their customers.
Parachutists have several companies vying for their attention which means better service, better sites, and cheaper rates than anywhere else in the United States.
Many Skydiving companies established near Chicago are within 100 miles of the city and have a range of services for beginners to advanced jumpers.
If you are interested in tandem skydiving, the Chicago area is your oasis. Several companies offer tandem jumps and even pictures of your parachuting adventure. That way, you have proof of your skydive as well as an indelible reminder of your jump.
Skydiving in the City of Chicago and Surrounding Areas
Several Chicago parachuting facilities have various activities besides the traditional amenities of lessons, instruction, certification, equipment sales, and aircraft rental.
In fact, if you would like to plan a recreational vacation centering on your skydiving hobby, several parachute jumping companies offer all-inclusive facilities for camping guests.
Chicagoland Skydiving Cente http://www.skydivecsc.com
…is less than an hour away from downtown Chicago and is located on US Route 30, just west of Naperville, Illinois.
This complete skydiving facility has everything a parachutist could want – friendly and professional staff, licensed instruction, climate-controlled packing area, classrooms, washrooms and showers, turbine aircraft, café, pro shop, and campground complex.
Skydive Chicago Airport http://www.skydivechicago.com
is about 75 miles from Chicago and is situated along the Fox River and designed as a skydiving and recreation area.
Not only are there world-class skydiving instruction, training, and jumps; there is a huge 22,000 sq ft recreation complex, campgrounds, game area, horseback riding, canoeing, and even hiking and biking trails.
The Chicago area is exceptional in scenery and landscape, which is breathtaking to behold from the sky.
Not only will you remember your parachuting, but you will also remember the view from 10,000 feet and the majesty of Mother Nature.
Las Vegas – The Best Spots To Skydive
They have a saying in Las Vegas that what happens in Vegas stays in Vegas. When it comes to Las Vegas skydiving, though, that motto may not hold.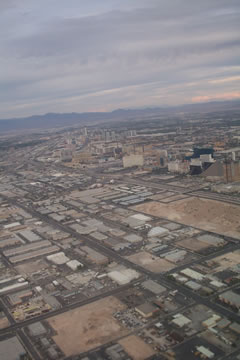 That's because Las Vegas can be the ultimate experience for a beginner or an expert, and you'll want to remember it.
Check that. You'll want to take photos or a video so you can show off your skydive in the Nevada area.
Skydiving Las Vegas gives you one of the unique perspectives of the desert and surrounding area, besides the thrill of freefalling from three miles up. Skydiving can give you views of all the area's major landmarks, not just the Strip.
We're talking Hoover Dam, the Colorado River, Redrock Canyon, Lake Mead, and the Valley of Fire.
Now to capture all of that incredible scenery as you fall 120 miles per hour, you may want to ask for the personal video and photo options that most skydiving schools and centers offer. Will videoing the experience cheapen your time in Las Vegas parachuting? Not at all. Experts may not need to video a skydive in Las Vegas because they already have many pictures of themselves on a jump.
But beginners may consider the video option when skydiving Las Vegas (http://www.lasvegasnevada.gov )
It's fascinating nowadays with the new digital video cameras strapped right to the tandem master's wrist. These cameras give a much closer and clearer shot than the old-fashioned cameras carried by separate jumpers.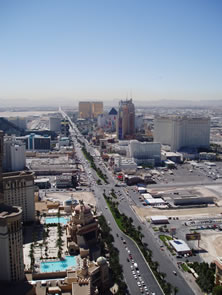 Either way, be sure to skydive the next time you're near the Strip at one of these nearby locations:
Vegas Extreme Skydiving: it is only 20 miles outside of the city. It not only offers a videography service, but it also can rent equipment, organize large jumps, and provide a campground.
Skydive Las Vegas: it is located only 25 minutes from Vegas. It serves as a skydiving school for both tandem training and solo jump training.
Skydive Mesquite: it may be farther outside of Vegas than the other two sites. It's an hour outside of the city, but this skydiving school and jump site boast of being the best spot for fun jumping in Nevada.
There is also the opportunity for indoor skydiving in Las Vegas. Just check the availability at the provided expert centers.
New York – Where to Skydive?
Whether you're a beginner or an expert skydive pro, New York is for you. There are numerous locations throughout the state to skydive nearby the big apple.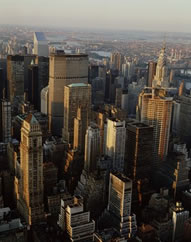 Skydiving there is big-time, not only because there are many choices for where to go skydiving. The scenery that your aircraft drops you out over, too, makes New York free fall a must.
New York skydiving is also on the map thanks to a new skydiving learning system called the Accelerated Freefall Program, or AFF.
When you skydive in New York, you can take advantage of this new way to get accreditation to jump on your own. You can even substitute the AFF program at some skydiving New York centers for your typical tandem jump.
The AFF program works like this: you must perform eight jumps to graduate. The first three jumps are performed with two jumpmasters at a skydiving school or another accredited program. Then you'll take the next four jumps with only one jumpmaster.
During these jumps, you learn how to turn in flight, gain ground and body reference, and other important skills for skydiving. Finally, on jump number eight, the last jump, you go solo and enjoy the rush of freefall all on your own.
No matter whether you plan to do the AFF program or take a tandem jump at a skydiving school, these skydiving centers in New York can surely accommodate you:
Blue Sky Ranch is located in Gardiner, New York, close by to the Shawangunk Mountains. Its skydiving school and pro shop offer all you could need for your next jump.
Duanesburg Skydiving Club is just outside of Albany. Too far for you? There are no excuses for Duanesburg. The club offers lodging for students and the comfort of air conditioning and heat in its packing area.
Finger Lakes Skydivers in Ovid gives the one-of-a-kind opportunity to leap over the beautiful and unparalleled Finger Lakes of New York. From 10,000 feet up, you'll actually see why they call them the Finger Lakes because they are shaped like the fingers of a hand.
Long Island Skydiving Center – http://www.longislandskydiving.com provides Long Island with its skydiving needs from the town of East Moriches. This jump site provides another unique vista, the view of the Atlantic coast and the shoreline of the Hamptons.
Wisconsin – Sophistication And Thrills Skydiving
For those looking for the ultimate skydiving in Wisconsin, Skydive Green Bay might be the choice that makes the most sense. Skydive Green Bay acknowledges that Wisconsin skydiving facilities often lack a modern touch, consisting of little more than tents and trailers, and in some cases, an unsophisticated hangar.
In contrast, this facility boasts climate-controlled indoor areas for training, more than 10 televisions, a studio for producing videos, and some of the most experienced staff members in the country.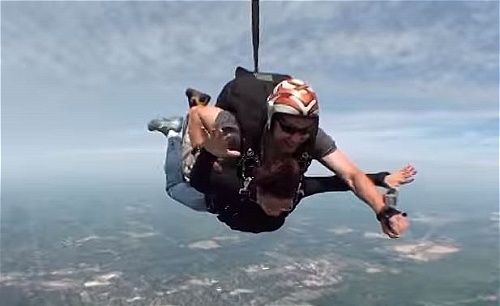 All equipment in service at Skydive Green Bay is state-of-the-art, and jumpers can be assured timeliness due to the many aircraft available. Safety is a top priority; all aircraft are maintained by professional aviation personnel. The high level of experience of instructors serves as another safety-assurance measure.
In fact, several staff members have won gold medals in skydiving or hold world records in the sport. With an average duration of experience of 11 years, the instructors at this facility qualify as the most experienced instructors, perhaps in the entire northern region of the United States. An instructor assists all jumpers with a minimum of three years of experience. Indoor training classrooms have been designed for comfort and optimal learning.
Skydiving in Wisconsin Sure To Please
That skydiving in Wisconsin can close in on beautiful views of Wisconsin countryside and lakes from 15,000 feet—the highest jump available in the state—any day of the week. This is made possible by the facility's operation of turbine aircraft, which are large enough and maintained in such a way to ensure safe and reliable skydives from high altitudes. First-time jumpers are welcomed with open arms; Skydive Green Bay can accommodate as many as 250 novice jumpers in one day.
Coaching is also offered at this facility in a wide range of skydiving aspects. Formation skydive training covers skills including exits, body position, grip-taking, fall rate, forward and backward movement, combination moves, creeping technique, mental focus, and more.
Those interested in improving their skydiving skills in other areas can explore the coaching available in free-fly training, canopy training, design parameters, and flight environment. The Wisconsin parachuting experience is sure to charm newcomers and veteran jumpers alike.
11 Skydiving Locations in Wisconsin